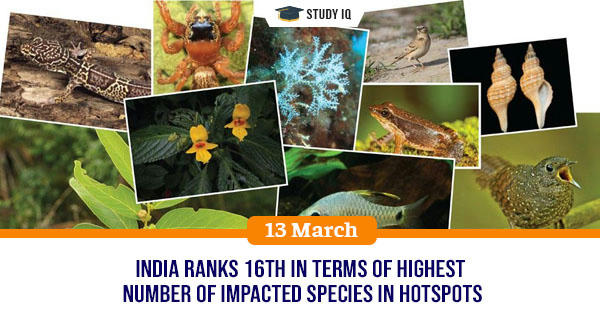 India ranks 16th in terms of highest number of impacted species in hotspots
Date: 13 March 2019
Tags: Biodiversity
In recently published study, India was ranked 16th in the world in terms of highest number of impacted species in biodiversity-rich zones (hotspots) due to human actions. In India, 35 species affected on an average in in biodiversity-rich zones.
Study
It was recently published study in PLOS Biology, an international journal dedicated to biological science. It had mapped impact mainly due to eight human activities — including hunting and conversion of natural habitats for agriculture — in areas occupied by 5,457 threatened birds, mammals and amphibians worldwide. It had
Findings of Study
Human impacts on species occur across 84% of earth's surface. Malaysia ranks first among countries with highest number of impacted species (on an average 125 spices).

Southeast Asian tropical forests — including India's biodiversity-rich Western Ghats, Himalaya and north-east — also fall in this category.

1,237 species are impacted by threats in more than 90% of their habitat; 395 species are affected by threats across their entire range.

Impact of roads is highest (affecting 72% of terrestrial areas), crop lands affect highest number of threatened species: 3,834.

Cool spots:

These affected areas are also 'cool-spots' (the world's last refuges where high numbers of threatened species still persist). They could be result of protection or because of intact habitat.

India related facts:

On average number of species impacted in South Western Ghats montane rainforests is 60 and in Himalayan subtropical broadleaf forests it is 53.

Roads and croplands are extensive and conversion of habitat for such activities in India are main threat to biodiversity.

India still has crucial refuges for threaten species that needs protection. The main priority should be identifying such areas to aid conservation.

These refuge areas do not necessarily have to be protected from human development, but need to be freed of actions that directly threaten species there.