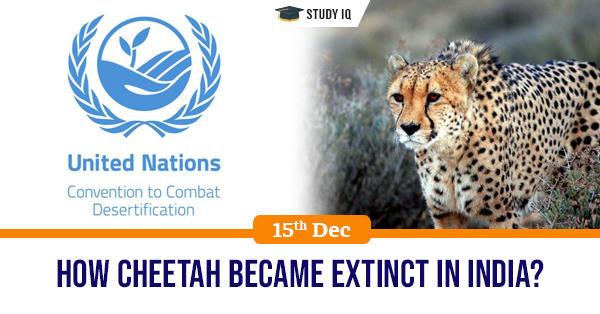 How Cheetah became extinct in India?
Date: 15 December 2019
Tags: Biodiversity
Issue
At the recent meeting of the Conference of Parties to the United Nations Convention to Combat Desertification (UNCCD COP 14), a researcher from the Indian delegation pronounced desertification as the primary cause of the extinction of the cheetah in India.
Background
This generated great debate and critique, but also for many people a realisation that cheetahs indeed no longer existed in the country because the word cheeta is still used to refer to the leopard and is, therefore, confused with the rosetted cat.
Details
Two idiosyncratic traits of the animal undeniably led to its end. One, the cat was very easy to tame: it was often trained to race down and hunt animals and was caught in large numbers for use in such hunts. Second, cheetahs were nearly impossible to breed in captivity.

The sport gained popularity across peninsular India during the medieval age. From this era emerged evidence of cheetah trained to hunt down black bucks (India's second fastest mammal) for a legion of nobles and princes.

But their inability to breed while in captivity meant that wild cheetahs needed to be constantly trapped from their natural habitats, especially cubs, to keep the sport alive over centuries.

Eventually, somewhere around the early 18th century, the constant removal of cheetahs from the wild, especially cubs, reached a tipping point.

While their prey base and habitat survived till much later, the cheetahs were already very scarce by the time the British consolidated their hold over India and started recording the occurrence of cheetahs.

The British government started classifying cheetahs as "vermin" and offered rewards for their destruction. This was the final nail in the coffin that sealed the fate of the species in the country.

The cheetah's erstwhile range included Bengal to the United Provinces, Punjab and Rajputana, Central India to the Deccan.

Outside India, the range of the Cheetah is said to extend northwards to Russian Turkestan and Trans-Caspia.

In South-Western Asia its range is believed to reach from the frontiers of Sind through parts of Afghanistan, Baluchistan and Persia and Mesopotamia to Syria and Palestine.

Unlike the popular visual depiction of African cheetahs, in India, the cheetah's habitat was diverse: scrubs, bushlands, arid and semi-arid open lands.

Today, the animal is perilously close to being wiped out from Asia itself. The world's last Asiatic cheetahs, barely numbering 50 individuals according to latest estimates , roam the cold, stony deserts and arid habitats of central Iran.

In recent years, India has showed interest in starting a project and looked towards Africa for re-introducing cheetahs into Indian forests.

Cheetahs could become a flagship species for the revival of India's critically imperilled grasslands, savannah and arid lands, often dismissed as 'wastelands' by policy makers.

Currently, the project, proposed to be spearheaded by the National Tiger Conservation Authority, awaits a green signal from the Supreme Court.