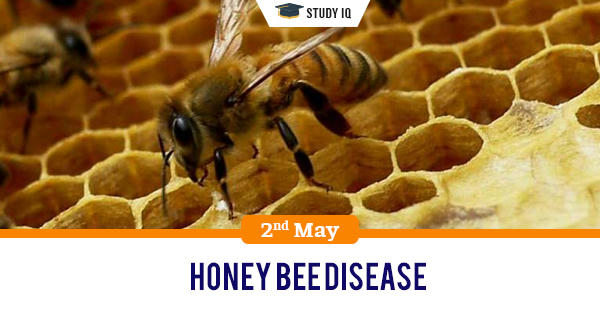 Honey bee disease
Date: 02 May 2020
Tags: Biodiversity
Issue
Honey bee colonies from across the UK are increasingly suffering from a viral disease, a new study has shown. The team found that the number of honey bee colonies affected with chronic bee paralysis rose exponentially between 2007 and 2017.
Background
The scientists also found that clusters of chronic bee paralysis, where disease cases are found close together, were becoming more frequent.
Details
Chronic bee paralysis symptoms include abnormal trembling, an inability to fly, and the development of shiny, hairless abdomens. The disease is caused by a virus known as chronic bee paralysis virus (CBPV), and infected bees die within a week.

This leads to piles of dead bees just outside honey bee hives and whole colonies are frequently lost to the disease.

The study also investigated whether disease risk was associated with honey bee queen imports. Honey bee queens head up honey bee colonies and beekeepers use imported honey bee queens to replenish their stocks.

Future work will concentrate on the susceptibility of different honey bee races and comparing the management practices of professional and amateur beekeepers to help discover the reasons behind the current disease emergence.
Importance of Honey bees
It is estimated that one third of the food that we consume each day relies on pollination mainly by bees, but also by other insects, birds and bats.

In addition, honey bees play a significant role in the pollination of other important crops such as cotton and flax. And there are also a number of valuable non-food products produced by the honey bee, such as beeswax used in cleaning and beauty products.

If bees contribute in the production of fruits and vegetables, the quality improves and the yield will grow by up to 71%.