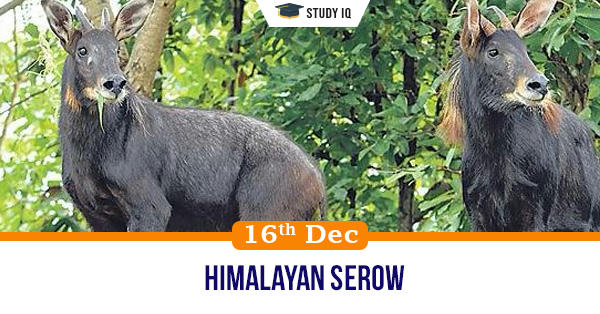 Himalayan Serow
Date: 16 December 2020
Tags: Biodiversity
Issue
A rare and distinct animal, Himalayan serow has been sighted for the first time in the Himalayan cold desert region.
Background
This is the first recorded human sighting of the serow in Himachal Pradesh. The animal has been spotted a few times earlier in the state, but that has always been through camera traps.
Details
A Himalayan serow resembles a cross between a goat, a donkey, a cow, and a pig. It is a medium-sized mammal with a large head, thick neck, short limbs, long, mule-like ears, and a coat of dark hair.

There are several species of serows, and all of them are found in Asia. The Himalayan serow, or Capricornis sumatraensis thar, is restricted to the Himalayan region.

Himalayan serows are herbivores, and are typically found at altitudes between 2,000 metres and 4,000 metres. They are known to be found in eastern, central, and western Himalayas, but not in the Trans Himalayan region.
Protection status
According to the International Union for Conservation of Nature (IUCN), Himalayan serows have experienced significant declines in population size, range size, and habitat in the last decade, and this is expected to continue due to intensive human impact.

Previously assessed as 'near threatened', the Himalayan serow is now been categorised as 'vulnerable' in the IUCN Red List of Threatened Species.

It is listed under Schedule I of The Wildlife Protection Act, 1972, which provides absolute protection.