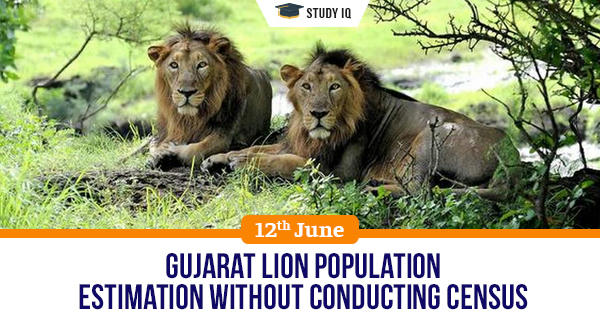 Gujarat Lion population estimation without conducting census
Date: 12 June 2020
Tags: Biodiversity
Issue
The Gujarat Forest Department announced the population of Asiatic lions in the state to be 674, up from 523 in a Lion Census five years ago.
Background
Conducted once every five years, the Lion Census was due on June 5-6 this year, but was postponed after the lockdown was announced on March 24.
Details
Through Poonam Avlokan, which is a monthly in-house exercise carried out every full moon. Field staff and officers spend 24 hours assessing the number of lions and their locations in their respective jurisdictions.

It was a mechanism developed by the Forest Department in 2014 as part of preparations for the 2015 Lion Census. It covered 10 districts where lion movements have been recorded in recent years.

The Lion Census involves larger participation. Around 2,000 officers, experts and volunteers were involved in the 2015 Census. That makes the Census more transparent. The lion 'observation' this month was conducted by around 1,400 forest staff and a few experts.

The Lion Census usually runs for more than two days, including a preliminary census and a final census. It is done using the block counting method — in which census enumerators remain stationed at water points in a given block and estimate abundance of lions in that block, based on direct sighting of lions who need to drink water at least once in 24 hours during the summer.

A 'lion observation' is an in-house exercise, conducted only by forest staff. The methodology too is different as, instead of remaining stationary at water points, teams keep moving in their respective territories and make their estimates based on inputs provided by lion trackers and on chance sightings.