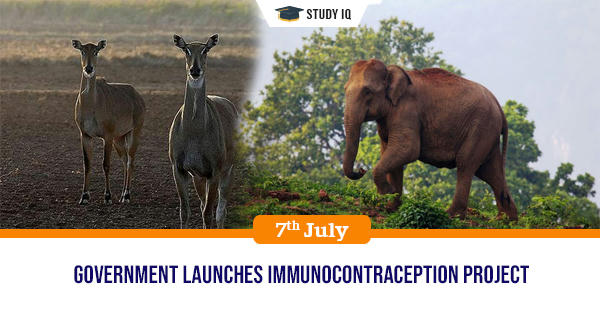 Government launches Immunocontraception Project
Date: 07 July 2019
Tags: Biodiversity
Union Ministry of Environment, Forest and Climate Change (MOEFCC) has launched project for undertaking immunocontraceptive measures for population management of four species of wild animals. Wild Animals covered under this project are elephant, wild boar, monkey and blue bull (Nilgai).
About immunocontraception Project
Immunocontraception:

It is technology that uses a female animal's immune system to build a protein around the egg that prevents it from fertilising.

Bodies involved:

It has been launched by MoEFCC. The protocol for immunocontraception has been developed by Wildlife Institute of India (WII) and National the Institute of Immunology (NII).

Regions covered:

The pilot project will begin in Uttarakhand and then will be implemented in rest of the country.
Need of Project
Human-animal conflict has emerged as major challenge in managing wildlife in the country. In this scenario, human-elephant conflict causes maximum number of causalities every year. According to Government data, between 2014 and March 2019, 2,398 people have died in elephant attack in the country, with West Bengal accounting for maximum number of such deaths. The birth-control method has been successfully tried in Africa in areas like Kruger National Park.