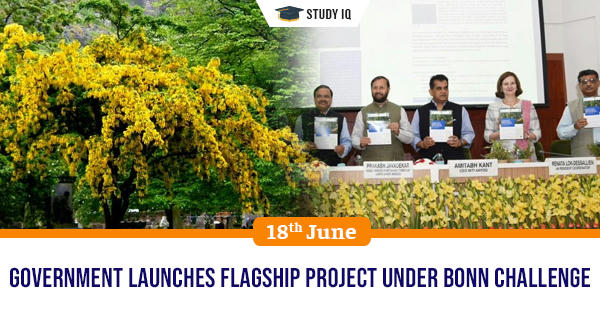 Government launches Flagship project under Bonn Challenge
Date: 18 June 2019
Tags: Biodiversity
Union Ministry of Environment, Forest and Climate Change (MoEFCC) launched a flagship project, part of larger international initiative called Bonn Challenge to enhance India's capacity for forest landscape restoration (FLR). It was launched by Union Environment Minister Prakash Javadekar on the occasion of World Day to Combat Desertification and Drought (observed every year on June 17).
Flagship project
Implementation:

It will be implemented during pilot phase of three-and-a-half years in the five pilot states of Haryana, Maharashtra, Madhya Pradesh, Nagaland and Karnataka. This will eventually be scaled up across the country.

Objective:

It will aim to develop and adapt the best practices and monitoring protocols for the country, and build capacity within the five pilot States.
About Bonn Challenge
It is global effort to bring 150 million hectares of the world's deforested and degraded land into restoration by 2020, and 350 million hectares by 2030.

It was launched in 2011 by Government of Germany and International Union for Conservation of Nature (IUCN).

It was later endorsed and extended to 2030 by New York Declaration on Forests at 2014 United Nations Climate Summit.

Forest landscape restoration (FLR) approach

: It is underlying aspect of Bonn Challenge which aims to restore ecological integrity at same time as improving human well-being through multifunctional landscapes.

Significance:

It serves as implementation vehicle for national priorities such as water and food security and rural development, while simultaneously seeks to help countries to contribute to achievement of international climate change, biodiversity and land degradation commitments.

India's commitment:

India had joined voluntary Bonn Challenge pledge at UNFCC Conference of the Parties (COP-13) 2015 in Paris, France. It has committed towards restoring 13 million hectares (MH) of degraded and deforested land by year 2020, and additional 8 million hectares (MH) by 2030. India's pledge is one of the largest in Asia.
Note: Bonn Challenge is not new global commitment but rather practical means of realizing many existing international commitments, including Convention on Biological Diversity (CBD) Aichi Target 15, UNFCCC REDD+ goal, andRio+20 land degradation neutrality goal.