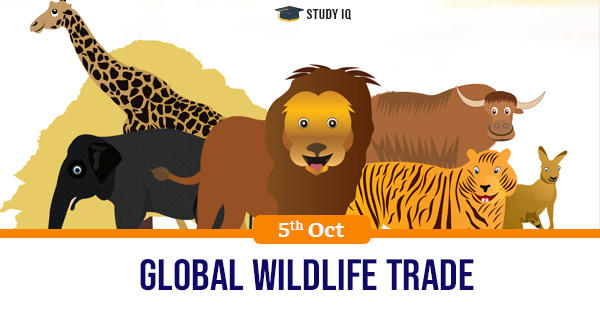 Global wildlife trade
Date: 05 October 2019
Tags: Biodiversity
Issue
A new study has found that nearly one in every five species of birds, mammals, amphibians and reptiles are bought and sold on the wildlife market globally.
Background
Trade of wildlife for luxury foods, medicinal parts and as pets are the key factors contributing to the extinction risk faced by of vertebrates globally. Over 45 per cent of bird species and 51 per cent of amphibian species were found to have been traded as pets.
Details
The research predicts that future trade will impact over 3,000 additional species, taking the total to about 8,700 species.

They said the wildlife trade industry generates between $8 billion and 21 billion, pushing some of these species closer to extinction.

The research also observed that the hotspots for mammal trade was in Africa and Southeast Asia, while Australia and Madagascar are the main trade hotspots for reptiles.

While wildlife pet trade flourishes in the tropics, product trade is concentrated in tropical Africa and Southeast Asia, including the Himalayas.
Preventing Wildlife trade
CITES
CITES (the Convention on International Trade in Endangered Species of Wild Fauna and Flora, also known as the Washington Convention) is a multilateral treaty to protect endangered plants and animals.

It was drafted as a result of a resolution adopted in 1963 at a meeting of members of the International Union for Conservation of Nature (IUCN).

Its aim is to ensure that international trade in specimens of wild animals and plants does not threaten the survival of the species in the wild, and it accords varying degrees of protection to more than 35,000 species of animals and plants.

Participation under CITES is voluntary, and countries that have agreed to be bound by the Convention are known as Parties.

Although CITES is legally binding on the Parties, it does not take the place of national laws. Rather it provides a framework respected by each Party, which must adopt their own domestic legislation to implement CITES at the national level.