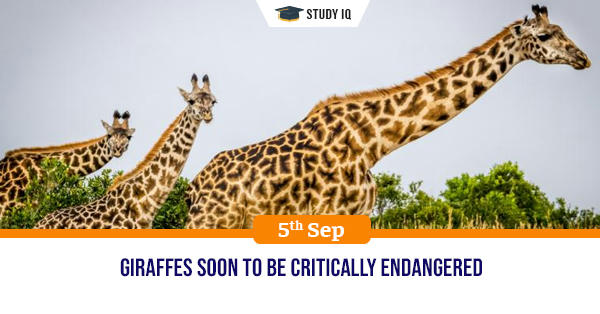 Giraffes soon to be critically endangered
Date: 05 September 2019
Tags: Biodiversity
Issue
Giraffes are in serious trouble. The population overall has declined 40 percent in 30 years, and there are now approximately 68,000 left in the wild. This may make them critically endangered in the future.
Background
The International Union for Conservation of Nature (IUCN), the gold standard for assessing endangerment, has found that giraffes are "vulnerable," meaning they face a "high risk" of extinction in the wild.
Reasons for decline
Poaching, habitat destruction and conflict are the main drivers blamed for thinning herds of these gentle creatures.

A primary contributor to the giraffes' loss of habitat is conversion of woodlands into farms and ranches.

Charcoal is another challenge: Africa's charcoal industry is booming, with many Africans making their living harvesting trees and burning the wood to form the lumpy black fuel. While this cottage industry is a boon to many low-income workers, it's a problem for giraffes, which rely on those trees for sustenance.

Civil wars are a further challenge In the face of ever-growing pressure on their livelihoods and some people have also turned to giraffe bush meat as a means of survival.

Giraffes are also threatened by the proliferation of disease, including a lesion-inducing skin disease that is widespread in sub-Saharan Africa, as well as inbreeding and the increased frequency and magnitude of droughts associated with climate change.
Steps to Protect
Convention on International Trade in Endangered Species (CITES) would also go a long way toward helping to save giraffes. When CITES confers conservation status on a species, it restricts the international trade in that creature.

The biggest effect of giraffes' listing under the ESA would be a severe curtailing of importation and trade within the country.

ESA listing would also shine a much needed spotlight on the plight of giraffes and attract international pressure for protection.