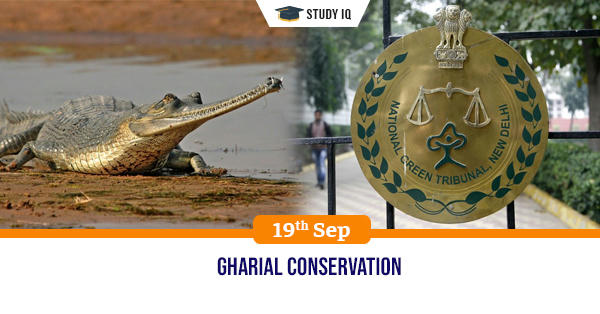 Gharial Conservation
Date: 19 September 2019
Tags: Biodiversity
Issue
The National Green Tribunal has directed the Madhya Pradesh government to submit within three weeks separate progress report on the steps taken according to an action plan to conserve gharial habitat along the Son river.
Background
According to the IUCN, the population of Gharial has declined by 96-98% since 1946, despite the Centre declaring it a protected species under the Wildlife Protection Act, 1972.
Gharials
Gharials (Gavialis gangeticus) have been identified as the most Critically Endangered crocodilian species in the world. The geographical range of gharial distribution has dwindled throughout Pakistan, Bhutan, India, Nepal and Bangladesh.
The gharial is listed on CITES Appendix I. It is classified as a critically endangered species in IUCN list.
Reasons for populatiopn decline
The increasing intensity of fishing using gill nets, and large-scale illegal and impermissible mining activity in the protected area .

construction of dams changes the river's course and large sand banks are created, which are used by Gharials for Sun Basking. These sand banks are attractive for sand mining mafia.