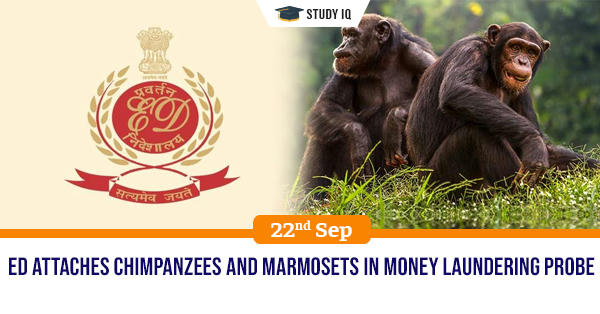 ED attaches Chimpanzees and Marmosets in money laundering probe
Date: 22 September 2019
Tags: Biodiversity
Issue
The Enforcement Directorate has issued a provisional attachment order in respect of three chimpanzees and four marmosets in connection with a money laundering probe into a Wildlife (Protection) Act case.
Background
Attachment is a legal process by which a court of law, at the request of a creditor, designates specific property owned by the debtor to be transferred to the creditor, or sold for the benefit of the creditor.
Details
The ED investigation is based on information received from the Wildlife Department of the West Bengal government regarding seizure of prohibited wildlife.
Prevention of Money Laundering Act, 2002
Prevention of Money Laundering Act, 2002 is an Act of the Parliament of India enacted by the government to prevent money-laundering and to provide for confiscation of property derived from money-laundering. The act was amended in the year 2005, 2009 and 2012.

The PMLA seeks to combat money laundering in India and has three main objectives:

To prevent and control money laundering.

To confiscate and seize the property obtained from the laundered money.

To deal with any other issue connected with money laundering in India
Wildlife Protection Act, 1972
The Wildlife Protection Act, 1972 is an Act of the Parliament of India enacted for protection of plants and animal species. The Act provides for the protection of wild animals, birds and plants.
It has six schedules which give varying degrees of protection.
Schedule I and part II of Schedule II provide absolute protection - offences under these are prescribed the highest penalties. Species listed in Schedule III and Schedule IV is also protected, but the penalties are much lower.
Schedule V includes the animals which may be hunted. The specified endemic plants in Schedule VI are prohibited from cultivation and planting.