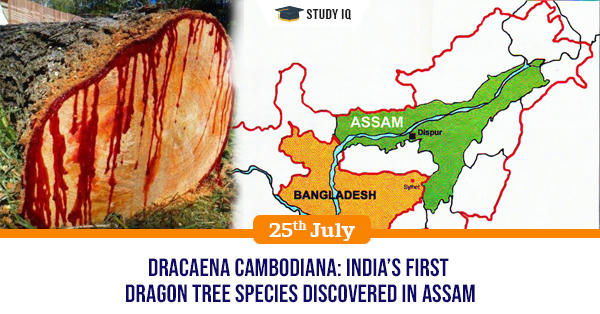 Dracaena Cambodiana: India's first dragon tree species discovered in Assam
Date: 25 July 2019
Tags: Biodiversity
India's first dragon tree species named Dracaena cambodiana was recently discovered in the Dongka Sarpo area of West Karbi Anglong in Assam. It is for the first time that dragon tree species was reported from India. It is important medicinal plant as well as an ornamental tree. Its sap turns bright red after coming in contact with air, so it is called dragon's blood.
Medicinal Properties: It is major source of dragon's blood (a bright red resin) which is used traditional medicine in China since ancient times and also as body oil, varnish, incense and dye. Besides, several antifungal and antibacterial compounds, antioxidants, flavonoids, etc., have been extracted from various parts of the plant.
Threat: Recent overexploitation to meet increasing demand for dragon's blood has resulted in rapid depletion of this plant species. For this reason, it has been listed in the inventory of Rare and Endangered Plants of China.
Dracaena genus
Plants belonging Dracaena genus in India mainly belong to family Asparagaceae is represented by nine species and two varieties in the Himalayan region, northeast and Andaman and Nicobar Islands. Dracaena cambodiana is the only true dragon tree species found in India.