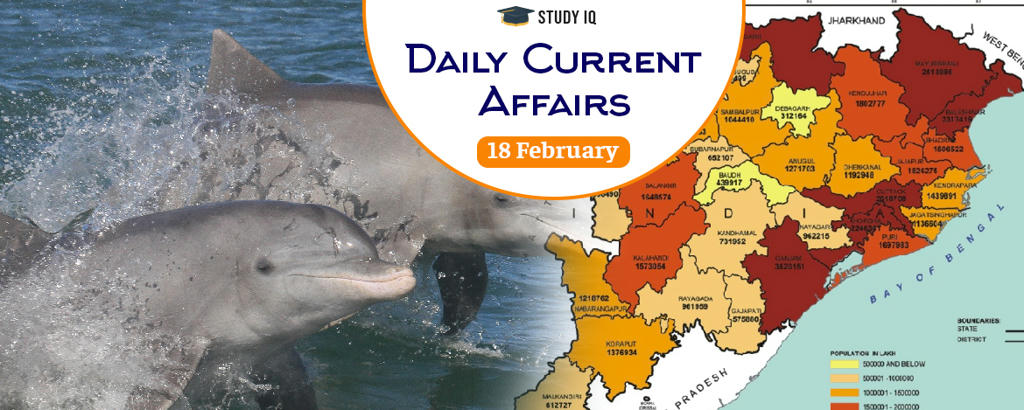 Dolphin population declines in Odisha: 2019 Census
Date: 18 February 2019
Tags: Biodiversity
According to 2019 dolphin census report of Odisha, population of dolphins in the state has declined from 469 in 2018 to 259 in 2019. The census was conducted by state's forest and environment department.
About Dolphin Census
It covered important aquatic ecosystems in state including Chilika lake, India's largest brackish water lagoon, Gahirmatha Marine Sanctuary, Bhitarkanika National Park and mouth of Rushukulya river.

It was covered in the sea at distance of only 10 kilometres from coast as it is not possible to count dolphins in the deep sea.
Census Findings
Dolphin species sighted during state-wide census included Irrawaddy, Bottle Nose and Humpback. The sighting of dolphins depended on weather condition of the day the census was carried out.

Gahirmatha is home to state's largest dolphin population, having 126 animals. It is smaller number as compared to 307 dolphins sighted in 2018.

Chilika had next largest population at 113, followed by Rushukulya river with 15 dolphins and finally, Balasore with 5 individuals. More dolphins were seen in Gahirmatha than Chilika due to its bigger area.

Species distribution:

Across Odisha, 130 Irrawaddy dolphins were sighted. Irrawaddy dolphin is not true river dolphin, but oceanic one and it lives in brackish water near coasts river mouths and in estuaries. 16 Bottle Nose dolphins were seen in Odisha. 113 Humpback were sighted.

Reasons for reduction in number of dolphins:

This could be due to migration of species from water bodies of state to the deep sea.

Climate change and bad weather may be also reasons for dolphins to migrate towards deep sea. Death is not the reason behind the decline in numbers.
Protection Status of Dolphins
Dolphins are categorised as 'Endangered' on the International Union for the Conservation of Nature's (IUCN) Red List.
They have been included in Schedule I of the Indian Wild Life (Protection) Act 1972, giving them highest degree of protection, similar to tigers.

They are also included in Appendix I of Convention on International Trade in Endangered Species (CITES), in Appendix II of Convention on Migratory Species (CMS).