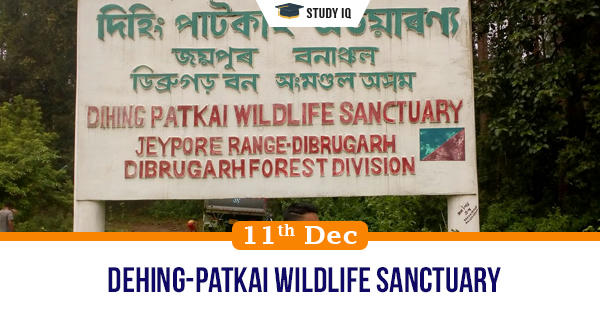 Dehing-Patkai wildlife sanctuary
Date: 11 December 2020
Tags: Biodiversity
Issue
The Assam forest department has initiated an immediate vaccination drive after autopsy of two dead elephants confirmed Anthrax.
Background
An outbreak of the disease was reported among elephants in Upper Assam in the 1940s. Recently, in 2019, two buffaloes had reportedly died of the disease at the Pobitora Wildlife Sanctuary.
Details
According to standard operating procedures, the forest officials had burnt both the carcasses after conducting autopsy on them.

The forest department has also prohibited fishing in the reserved forest as a precautionary measure.
Dehing Patkai
It is located in the Dehing patkai landscape which is a dipterocarp-dominated lowland rainforest.

The rainforest stretches in the districts of Dibrugarh, Tinsukia, and Charaideo. The forest further spreads over in the Tirap and Changlang districts of Arunachal Pradesh.

The Dehing Patkai forms the largest stretch of lowland rainforests in India. The Dehing Patkai Wildlife Sanctuary was declared as Dehing-Patkai Elephant Reserve under Project Elephant.

The Dehing Patkai Forest region has a rich cultural heritage. There are more than a dozen different ethnic groups living in the area including the indigenous Assamese such as Khamyang, Khampti, Singpho, Nocte, Chutia, Ahom, Kaibarta, Moran and Motok, Burmese, and non-indigenous Nepali people. Tea-tribes were brought by the British to work in the tea plantations.
Anthrax
Anthrax is caused by a spore-forming bacterium. It mainly affects animals. Humans can become infected through contact with an infected animal or by inhaling spores.

Symptoms depend on the route of infection. They can range from a skin ulcer with a dark scab to difficulty breathing.

Antibiotic treatment cures most infections. Inhaled anthrax is harder to treat and can be fatal.