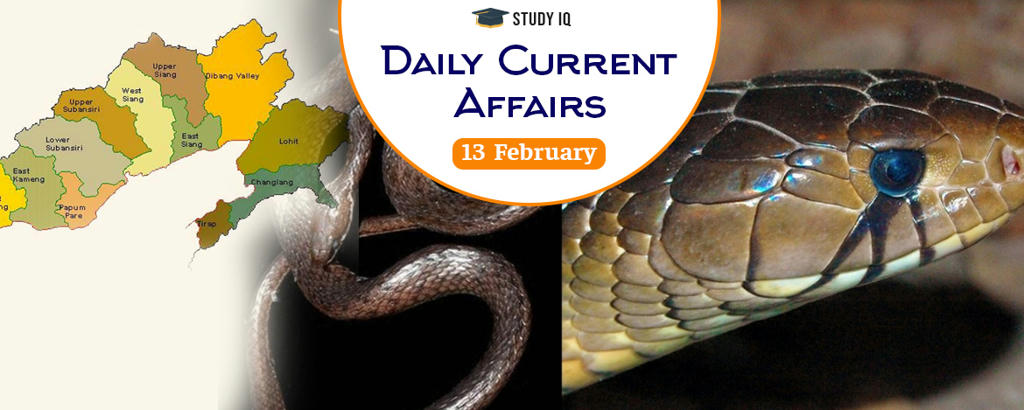 Crying keelback: New snake species discovered in Arunachal Pradesh
Date: 13 February 2019
Tags: Biodiversity
Scientists have discovered new species of non-venomous snake named Crying keelback in Lepa-Rada district of Arunachal Pradesh. Its zoological name Hebius lacrima. Lacrima in Latin means tear. Globally snakes are represented by 3,709 species. The northeast is home to some 110 species and Arunachal Pradesh accounting for 55 species.
Crying keelback
It has been named so because of dark spot under its eyes looking like black tear that interrupts white stripe running along t upper jaw to back of its head and beyond.

It belongs to genus Hebius, which has total 44 species of snakes worldwide. It lives near streams along paddy fields and feeds on small fish, tadpole, frogs and geckos.
It has combination of a distinctive broad, white, interrupted stripe along its body, three rows of irregular dark blotches (not vertically aligned) on each side, six cream, elongated spots on its anterior part and smooth dorsal scale row. This characteristic differentiates it from other snakes in Hebius genus.
Background
Several animals, birds, amphibians and insects have been discovered in Arunachal Pradesh in more than two decades in recent past.

Arunachal macaque

(Macaca munzala) was discovered in 1997 and was recognised as new primate species in 2004. White-cheeked macaque (Macaca leucogenys), another primate species was discovered in 2015.

Leaf deer

(Muntiacus putaoensis) was discovered in 2002. Himalayan forest thrush was discovered in 2016 and it was given scientific name Zoothera salimalii after legendary ornithologist Salim Ali.