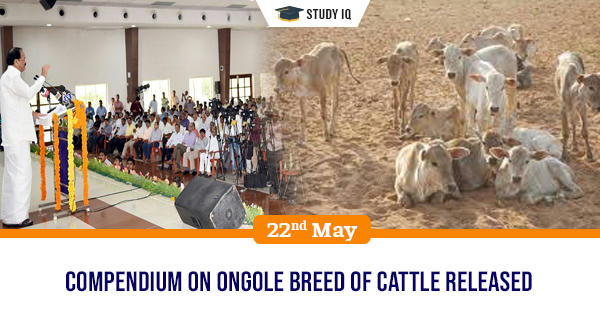 Compendium on Ongole breed of cattle released
Date: 22 May 2019
Tags: Biodiversity
Vice President Venkaiah Naidu recently released 1200-page Compendium on indigenous Ongole breed of cattle at Vijayawada, Andhra Pradesh. During this released he called for protecting this indegenous cattle breed and also stressed that cattle wealth was national wealth. The compendium traces history of this cattle breed from 1885 to 2016 by providing information from 13 books and 80 research findings on Ongole Cattle.
Ongole cattle breed
It is indigenous cattle breed that originates from Prakasam District in Andhra Pradesh. It derives its name from place name, Ongole (Ongole occupy a small area between the Gundlakamma and Musi rivers in Andhra Pradesh).
Its scientific name is Bos Indicus. This breed is also referred by some as Nelore cattle as its origin area was once part of the Nellore area.
It is one of the heaviest breeds of cattle and weighs approximately half ton. It is 1.7 meters in height and have body length of 1.6 meters and girth measuring 2 meters.
It known for its toughness, rapid growth rate and has natural tolerance to both foot and mouth disease and mad cow disease.
Ongole bull is are great demand all over the world and are used in bull fights in Mexico and some parts of East Africa due to their strength and aggressiveness. They also used in traditional bull fights in Andhra Pradesh and Tamil Nadu. The famous Santa Gertrudis breed developed in Texas, US has Ongole blood.