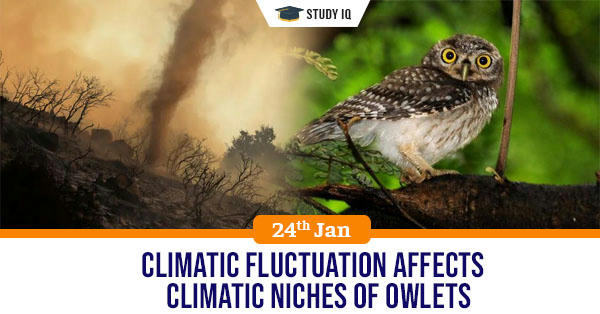 Climatic fluctuation affects climatic niches of Owlets
Date: 24 January 2020
Tags: Biodiversity
Issue
Ongoing climate change and global warming may cause a shift in the climatic niches and habitats of the owlets or small-sized owls (20-25 cm) notes a new study.
Background
Climate niche is the optimal climatic conditions in which the species can survive. The study looked at how climatic changes in the past affected the climatic niches of owlets and how the present climatic scenario may influence them.
Details
Owlets primarily feed on insects and small vertebrates, playing a vital role as a member of predatory guild, and acting as natural insect-controllers and rodent-killing machines.

The team of researchers from across India studied four owlets - Forest Owlet, Jungle Owlet, Spotted Owlet and Little owl.

Using available field observations, climate data and modeling studies, the team reconstructed the climatic niches for the four owlets in the four time periods - Last Interglacial (120-140 thousand years ago), Last Glacial Maximum (22 thousand years ago), Mid-Holocene (6000 years ago), and present scenario (1960- 1990).

They found that the climatically suitable areas for owlets underwent many cycles of expansion and reduction across the years.

The study also tried to understand the biogeography of the Forest Owlet, an endemic and endangered owlet of India.

Though the Forest Owlet occupies the same geographical region (Central India and North Western Ghats) and share similar food habits with the Spotted Owlet and Jungle Owlet, it is narrowly distributed.

Forest Owlets are generally found in teak-dominated landscapes at the edge of the forests while Spotted Owlets are human commensals occupying human-dominated landscape (rural and urban areas). Jungle Owlets occupy dry and moist deciduous forests.

Researchers are also involved in understanding global trends in owl species richness, factors affecting them, and impact of night light intensification (light pollution) on them using biodiversity informatics.

In the wake of global warming and climate change, several researchers have predicted that there will be detrimental effects on several species due to increase in global temperatures.
Niche
A niche is the match of a species to a specific environmental condition. It describes how an organism or population responds to the distribution of resources and competitors and how it in turn alters those same factors.