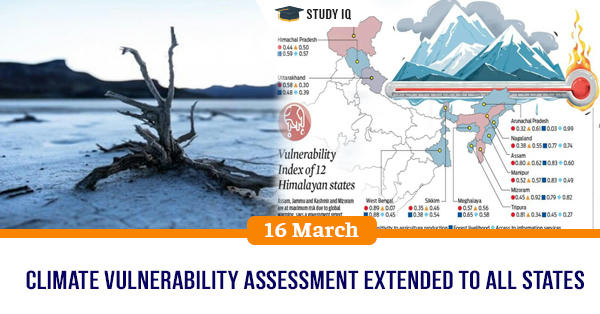 Climate vulnerability assessment extended to all states
Date: 16 March 2019
Tags: Biodiversity, Climate Change
Department of Science and Technology (DST) has decided to carry out climate vulnerability assessment of all states and union territories (UTs) to assess the climate risks faced by States in India. It comes after first-ever successful vulnerability assessment undertaken by DST of 12 Himalayan states to climate risks.
Need for assessment
India is among most vulnerable to climate change. Such assessment will help government to assess which states or districts need more resource allocation for adaptation and mitigation of climate change, depending on how vulnerable they are,
Pan India Climate vulnerability assessment
It will be based on global methodological framework of 2014 Intergovernmental Panel on Climate Change (IPCC).

It defines vulnerability by how 'sensitive' a specific eco-system is to climate change risks and what is the current adaptive capacity to mitigate the risks.

It will be first-such climate vulnerability index for all states, as there is no such national rating at present to determine which states are more vulnerable to climate risks.

It will be based on common set of indicators — socio-economic, demographic, health, sensitivity of agricultural production, forest-dependent livelihood and access to information.
12 Himalayan States Climate vulnerability assessment
It was conducted in 2018 by Indian Institutes of Technology (IIT) at Mandi and Guwahati, and the Indian Institute of Science (IISc), Bengaluru.

It covered 12 Himalayan states viz. Assam, Manipur, Meghalaya, Mizoram, Nagaland, Tripura, Arunachal Pradesh, Sikkim, hill districts of West Bengal, Himachal Pradesh, Uttarakhand and Jammu and Kashmir.

Its aim was to evolve common methodology, and determine how districts there are equipped to deal with the vagaries of climate change.

Based on climate vulnerability index of each of these States was prepared based on district-level data.

The index was measure of inherent risks district faces, primarily by virtue of its geography and socio-economic situation.

It ranked states on scale of 0 (least vulnerable) to 1 (most vulnerable). It was measused based on eight key parameters.

These 8 parameters included (i) percentage of area in districts under forests, (ii) population density, (iii) yield variability of food grain, (iv) infant mortality rate, (v) percentage of population below poverty line (BPL), (vi) female literacy rate, (vii) average man-days under MGNREGA and (viii) area under slope > 30%.

Top venerable states were Assam (index score of 0.72), Mizoram (0.71). Sikkim, was relatively less vulnerable with an index score of 0.42.

Scores of other states: J&K (0.62), Manipur (0.59), Meghalaya (0.58), West Bengal (0.58), Nagaland (0.57), Himachal Pradesh (0.51), Tripura (0.51 both), Arunachal Pradesh (0.47) and Uttarakhand (0.45).