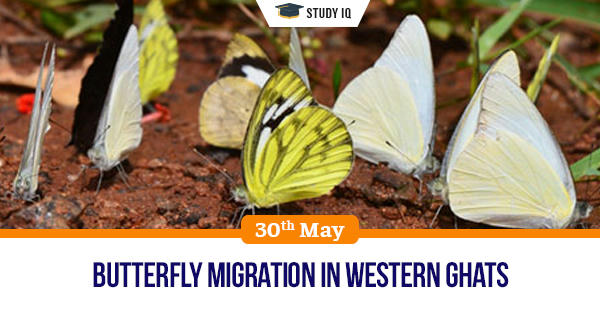 Butterfly migration in Western Ghats
Date: 30 May 2020
Tags: Biodiversity
Issue
A surge of a million butterflies happens annually in the Western Ghats, as they migrate just before the onset of the Southwest Monsoon.
Background
The Western Ghats is one of the most diverse regions of the world. It is home to large number of species including butterflies, with some of them being endemic to the region.
Details
They move towards the plains and the Eastern Ghats to escape the rains. Sometimes, it is mere dispersal to cope with food scarcity, when there is a shortage of host plants. There is mass exodus to look for greener pastures.

Butterflies have a short life span of four weeks. When the butterflies return, they do so with a new generation.

During the pre-monsoon, milkweed butterflies like the dark blue tiger, blue tiger, common crow and double-branded crow move swiftly towards the plains in a vivid streak of yellows, blues, and browns.

While tiger butterflies move like a river, others, like the common albatross, follow a single line. The common albatross is a high altitude migrator from Coorg.

Butterflies help study floral diversity. For example, if there is a profusion of the beautiful Malabar banded peacock butterflies, it indicates there is a flourishing number of a Zanthoxylum tree.

In countries like Taiwan, they gently make a colour-coded mark on the wing and release the butterfly. In the US, a lightweight paper label is attached on the hindwing. But it is tough to do the same here.

Butterflies are also monitored to study climate in many countries. They are extremely sensitive to weather, and when it is too cold or hot, they just quit the place.