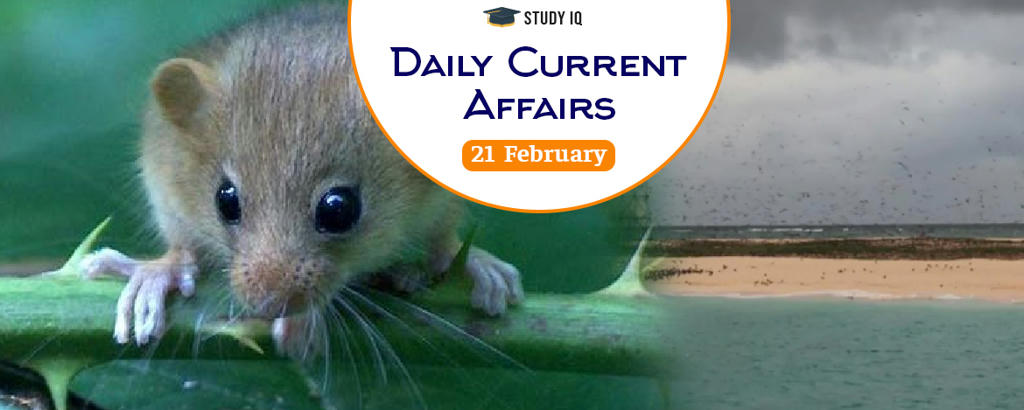 Bramble Cay Melomys: First mammal to extinct due to climate change
Date: 21 February 2019
Tags: Biodiversity
Australia has officially declared rat-like Melomys rubicola (Great Barrier Reef rodent) extinct after it was not spotted in decade. This makes it first mammal to extinct due to human induced (anthropogenic) 'climate change'. The species was not seen since 2009. It was only endemic mammal species of Bramble Cay Island in Great Barrier Reef.
Reasons for Extinction
It was revealed after researchers in extensive surveys and searches failed to find single specimen from its only known habitat.

Habitat loss due to repeated ocean inundation (due to sea level rise) of its only habitat in Bramble Cay over the last decade.

Sea-level rise and weather events in Torres Strait region due to human-induced climate change being root cause of the loss of the Bramble Cay Melomys.
About Bramble Cay melomys
It was small rat-like (rodent) animal species in family Muridae. It was Great Barrier Reef's only endemic mammal species.

It was only found in small coral cay (a low-lying island on a coral reef) called Bramble Cay located off north coast of Queensland in Torres Strait between Australia and Papua New Guinea.

Its coral cay habitat was only 340m long and 150m wide and was 3m above sea level. It was first discovered in 1845 on cay by Europeans who shot large rats for sport.