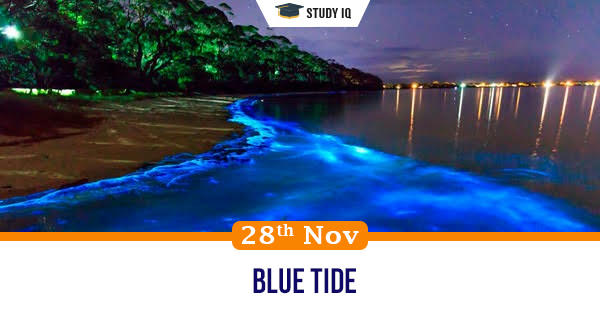 Blue tide
Date: 28 November 2020
Tags: Biodiversity
Issue
Beaches in Maharashtra have witnessed the spectacle of bioluminescence. This phenomenon has created a term known as 'blue tide'.
Background
The spectacle occurs when phytoplankton (dinoflgellates) produce light through chemical reactions in proteins. Waves disturb these organisms making them release light.
Details
Bioluminescence has been an annual occurrence along the west coast since 2016 during the months of November and December.

The phenomenon has been observed across India's coast as well as the coastline of many beaches in the world such as Maldives, Vietnam, Indonesia, USA, Australia, and many other countries.
Bioluminescence
It is generally found in many marine organisms such as jelly fish, algae, worms, crustaceans, sea sharks, fishes etc.

Bioluminescence is an anti-predatory response. It causes predators to hesitate and prevent them from attacking the organism.
Impact of blue tide
Smaller blooms are harmless. Slow moving large blooms may an impact on deep sea fishing. This phenomenon indicates climate change.

Bioluminescence could also be caused by fertilizer runoff from fields or discharge of sewage into the sea.

Many of the species in this group are toxic. If dinoflagellates reproduce rapidly, they may cause so-called 'red tides'.

During this period all the animals (molluscs, fish, etc.) that feed on algae also become toxic due to the accumulation of high amounts of toxins.