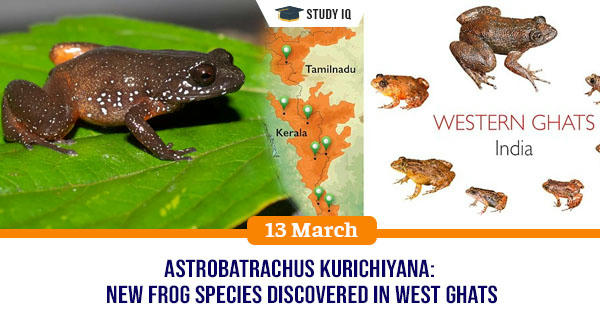 Astrobatrachus kurichiyana: New frog species discovered in West Ghats
Date: 13 March 2019
Tags: Biodiversity
Scientists have discovered new starry dwarf frog species named Astrobatrachus kurichiyana in Western Ghats in Wayanad district of Kerala. Genetic analysis of this frog species has revealed that is at least 60 million years old.
Astrobatrachus kurichiyana
It has been named Astrobatrachus kurichiyana (genus Astrobatrachus) after its starry spots and kurichiyana in honour of Kurichiya tribe that live in the area.

It is nocturnal amphibian and lives under leaf litter on mountaintop in Wayanad district of Kerala.

It is just 2 cm long and sports pale blue spots and brilliant orange thighs. It has triangular finger- and toe tips.

It has different orphological characters, shape and colour patterns as compared to other frogs seen Western Ghats.