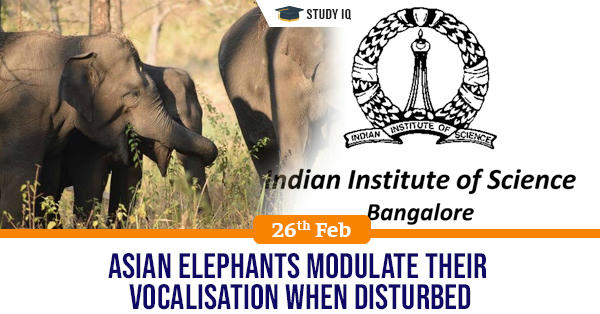 Asian elephants modulate their vocalisation when disturbed
Date: 26 February 2020
Tags: Biodiversity
Issue
A recent study by scientists of the Indian Institute of Science (IISc), Bengaluru has revealed fresh insights into the behaviour of Asian elephants (Elephas maximus). Their findings show that Asian elephants modulate their vocalisations when disturbed.
Background
The makes a distinction between low-frequency rumbles and high-frequency trumpets, and suggests that Asian elephants modulate both high- and low-frequency calls when disturbed.
Details
The other key findings of the paper states that the duration of trumpets decrease and that of rumbles increase when Asian elephants are disturbed.

To understand disturbance-induced communication in free-ranging Asian elephants, researchers compared two call types, 'rumbles' (low-frequency calls) and 'trumpets' (high-frequency calls), produced in disturbed [by humans or other animals] and undisturbed [social interaction] states.

The observations in the indicate that these disturbance-induced modulations, especially modulated rumbles, could be an adaptive acoustic mechanism and may serve the functional role of alerting conspecifics (members of the same species) to imminent danger.

The study was situated in the protected areas of Bandipur National Park and adjoining areas of the Mudamalai National Park.

Surveys were conducted to locate groups of free-ranging Asian elephants in various microhabitats such as woodlands, swamps, salt licks, and grassland sand along water pools, canals and rivers.

During the study, the researchers described the disturbed state for elephants as detection of a disturber by smell, vision, hearing or a combination of multimodal cues" and a "disturber" was defined as any subject other than elephant conspecifics, including humans and other heterospecifics such as deer, birds or predators.
While considerable research on elephant vocalisation have been conducted in the case of African elephants, the study reveals the first of its kind results on vocalisations when it comes to Asian elephants, particularly during disturbance.