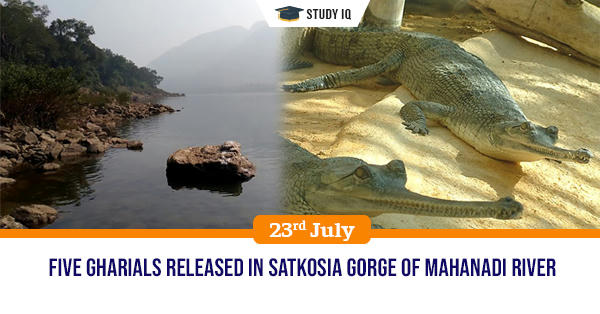 Five Gharials released in Satkosia gorge of Mahanadi River
Date: 23 July 2019
Tags: Biodiversity
Odisha State Forest Department released five Gharials (three females and two males), fitted with radio transmitters, into Satkosia gorge of Mahanadi River. They were released as part of Forest Department's renewed effort to revive population of gharials in their natural habitat. These five gharials were bred at Nandankanan Zoological Park. In future course in a year, 10 more gharials will be released in a phased manner.
Purpose of fitting with Radio transmitters: It will help for future identification and tracking of their migration routes of these Ghairals. This will help in gathering information on migration and factors affecting their survival,
Note: Three Species of crocodilians are found in India: (i) Mugger crocodile (ii) Gharial (Or freshwater crocodile), and (iii) Saltwater crocodile. Odisha is the only Indian state having all three species — gharial, mugger and saltwater crocodile. Satkosia gorge of Mahanadi River is southernmost limit of gharials' home range in India.
About Gharials
It is a fish-eating crocodile and belongs to one of the three crocodilian species found in Indian Sub-Continent. Its scientific name is Gavialis Gangeticu. Compared to alligators and crocodiles, it has a very long and narrow snout (instead of a broad snout).

Habitat:

It is fresh-water crocodile and lives in deep fast-flowing rivers.

Distribution:

Once, it was abundant in main rivers and tributaries of Indus, Ganga, Brahmaputra and Mahanadi-Brahmani. Now it is limited to only 14 widely spaced and restricted locations in India and Nepal. In India its major 'breeding' populations are confined to two rivers only: (i) Girwa River: It originates in Nepal and runs through Katerniaghat Wildlife Sanctuary. (ii) Chambal River: It supports world's largest population of Gharials in the wild.

Significance in Hindu Culture:

It is considered as vahana (vehicle) of River Goddess Ma Ganga. Some also revere it as vahana of water (rain) god Varuna.

Protection Status:

It is listed in Schedule I of Indian Wildlife (Protection) Act, 1972. It is also listed as Critically Endangered in International Union for Conservation of Nature (IUCN) Red List of Endangered Species.