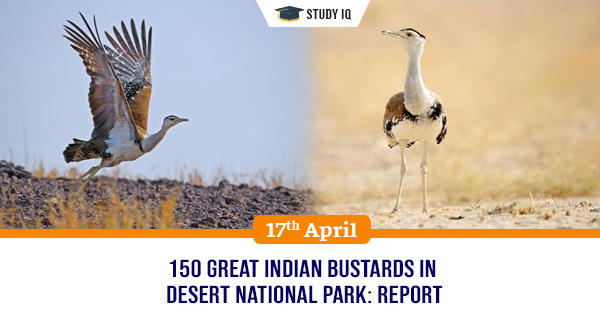 150 Great Indian Bustards in Desert National Park: Report
Date: 17 April 2019
Tags: Biodiversity
There are 150 Great Indian Bustards (GIB) in Rajasthan's Desert National Park (DNP), as per actual report submitted by the state forest department following the directive of the National Green Tribunal (NGT). This claim is contrary to the Wildlife Institute of India (WII) which had estimated total population of GIB at 150 for whole India.
Desert National Park (DNP) in Rajasthan is spread over Jodhpur, Jaisalmer, Barmer and Bikaner districts. It is main habitat of Great Indian Bustards, which is state bird of Rajasthan.
Great Indian Bustards
It is large bird with horizontal body and long bare legs, giving it ostrich like appearance. It is among the heaviest of the flying birds.

It habitat consists of large expanses of dry grassland and scrub and is often found associated in same habitat as blackbuck.

Once common it was common in dry plains of Indian subcontinent, now it found only in Rajasthan, Gujarat, Maharashtra, Karnataka and Andhra Pradesh. It is facing threat of extinction due to hunting and loss of its habitat.

Protection Status:

It is critically endangered species listed in International Union for conservation of Nature's (IUCN) Red List. It is listed in Schedule I of the Indian Wildlife (Protection)Act, 1972 and in the CMS Convention and in Appendix I of CITES.

Conservation Projects:

It is one of the species identified for recovery programme under Integrated Development of Wildlife Habitats of Union Ministry of Environment and Forests

Rajasthan Government has launched Project Great Indian Bustard under which identifying and fencing off bustard breeding grounds in existing protected areas is undertaken as well as secure breeding enclosures are provided in areas outside protected areas.