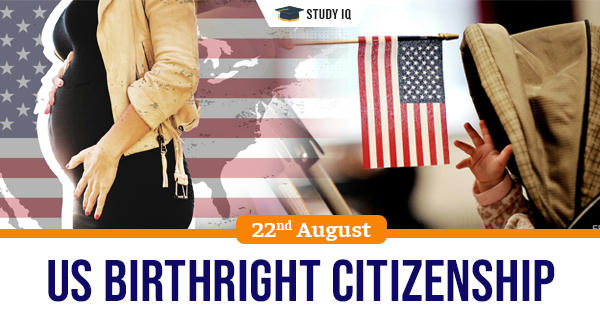 US birthright citizenship
Date: 22 August 2019
Tags: Bills & Laws
Issue
US President Donald Trump has said that he is considering ending US birthright citizenship despite the fact that such a move would face immediate legal challenge.
Background
The US birth right law allows babies born in the country to automatically become citizens. Trump's statement is in response to administration's announcement for a proposal to detain undocumented families together indefinitely.
Details
The 14th Amendment of the US Constitution guarantees birthright citizenship to all individuals: All persons born or naturalized in the United States and subject to the jurisdiction thereof, are citizens of the United States and of the State wherein they reside.

Trump has been planning to use an executive order to end birthright citizenship for children born in the U.S. Many other countries

, including Canada, Mexico. Brazil, Argentina, Venezuela, Jamaica and Pakistan are a few of the others who have birth right laws.
Citizenship Rights in India
Indian nationality law largely follows the jus sanguinis (citizenship by right of blood) as opposed to the jus soli (citizenship by right of birth within the territory).
Citizenship can be obtained through following means in India
Citizenship at the commencement of the Constitution of India
Persons domiciled in the territory of India as on 26 November 1949 automatically became Indian citizens by virtue of operation of the relevant provisions of the Indian Constitution coming into force.
Any person born in India on or after 26 January 1950, but prior to the commencement of the 1986 Act on 1 July 1987, is a citizen of India by birth.
Persons born outside India on or after 26 January 1950 but before 10 December 1992 are citizens of India by descent if their father was a citizen of India at the time of their birth.
Persons born outside India on or after 10 December 1992 are considered citizens of India if either of their parents is a citizen of India at the time of their birth.
Citizenship by registration
The Central Government may, on an application, register as a citizen of India under section 5 of the Citizenship Act 1955
Citizenship by naturalization
Citizenship of India by naturalization can be acquired by a foreigner who is ordinarily resident in India for 12 years (throughout the period of 12 months immediately preceding the date of application).