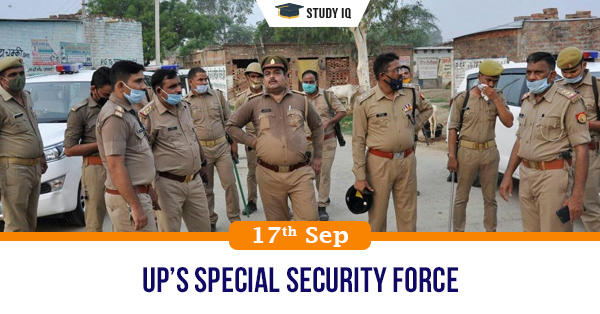 UP's Special Security Force
Date: 17 September 2020
Tags: Bills & Laws
Issue
The Uttar Pradesh government has formed a new Special Security Force that has provisions to allow arrests without warrant or the order of the magistrate.
Background
The state government has claimed that it is no different from Special Forces like the CISF at the Centre, or those in states like Odisha or Maharashtra.
Details
The Uttar Pradesh Special Security Force Act, 2020 allows arrests without warrants. Its powers are in some ways similar to those of a few other central and state forces, but the UPSSF also differs from them in a few significant ways.

The force was announced on June 26, 2020, after Chief Minister Yogi Adityanath asked for the setting up of a CISF-like force to guard important institutions and persons.

The proposed force was envisaged as having "high-level professional skills", which would reduce the burden on the Provincial Armed Constabulary (PAC), which could then focus on law and order.

The new "state vital installation force" would protect courts, airports, banks, the Metro, industrial units, places of worship, as well as individuals.

The UPSSF will be led by an Additional Director General-level officer, followed by an Inspector General, Deputy Inspector General, Commandant, and Deputy Commandant.

The Act lays down its purpose as to maintain the smooth and strong security arrangements of the vital establishments and of notified persons, as at the Centre and in other states, there is no special security force established in the state of Uttar Pradesh.

The UP Act is similar to the others in the provisions regarding arrests and searches without warrant, but is different in the kinds of institutions that the force has to protect, and the protection that is granted to members of the force.

There is special protection to members of the force. Section 16 says: "No court shall take cognizance of an offence against any member of the force" for action taken in the discharge of his duties.