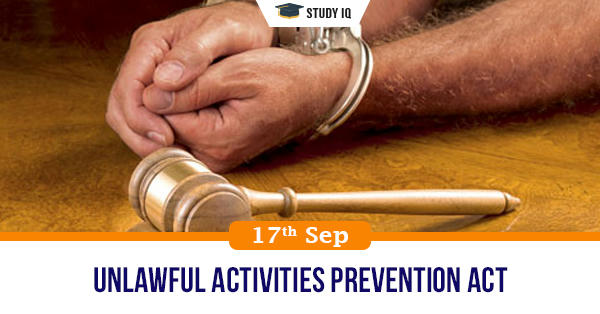 Unlawful Activities Prevention Act
Date: 17 September 2020
Tags: Bills & Laws
Issue
Delhi Police have arrested former Jawaharlal Nehru University (JNU) student Umar Khalid, under the Unlawful Activities (Prevention) Act (UAPA).
Background
Khalid is one of several activists who have been booked in cases relating to the violence in Delhi in February.
Details
The UAPA is primarily an anti-terror law aimed at "more effective prevention of certain unlawful activities of individuals and associations and for dealing with terrorist activities".

It was first promulgated in 1967 to target secessionist organisations, and is considered to be the predecessor of laws such as the (now repealed) Terrorist and Disruptive Activities (Prevention) Act (TADA) and Prevention of Terrorism Act (POTA).

Amendments from time to time have made the UAPA more stringent. Following the last amendment in 2019, an individual can be designated a terrorist; only organisations could be designated earlier. UAPA cases are tried by special courts.

The law has been used in cases other than those of conventional 'terrorism' or 'terrorist acts'. It has of late been invoked against activists, student leaders, and journalists.

The Act defines unlawful activity as any action — spoken or written words, signs, or visible representation — which is intended or supports any claim to bring about secession of any part of India or which incites anyone towards secession.

Section 13 provides for up to seven years in prison for anyone who "advocates, abets, advises or incites the commission of any unlawful activity".

Section 16 specifies punishment with death or imprisonment for life in case a death has occurred as a result of the act.

The law defines a terrorist act as one that is intended to threaten or is likely to threaten the unity, integrity, security, or sovereignty of India, and causes or is likely to cause death or injuries, and property damage.

Section 17 provides for punishment for raising funds for terrorist acts, and Section 18 deals with conspiracy behind the terrorist act or "any act preparatory to the commission of a terrorist act".

In UAPA cases, the police custody can also be extended to 30 days as against the 15 days allowed in ordinary criminal cases.