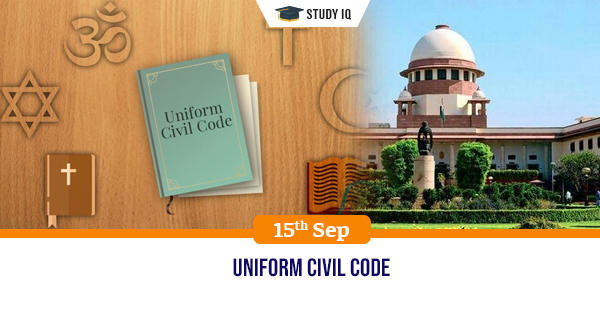 Uniform Civil Code
Date: 15 September 2019
Tags: Bills & Laws
Issue
The Supreme Court has said that the government has till date taken no action to secure for its citizens a Uniform Civil Code.
Background
The judgment came in a case concerning the question whether succession and inheritance of a Goan domicile is governed by the Portuguese Civil Code, 1867 or the Indian Succession Act of 1925.
Details
The UCC was added in Constitution in Article 44 in Part IV dealing with the Directive Principles of State Policy.

It was envisioned that a uniform set of rules would replace the distinct personal laws of marriage, divorce, etc. based on customs of each religion.
UCC- Advantages and Disadvantages
Advantages
Provides citizens with equal status.

Provides gender equality.

Upholds nationalistic attitude in population.

Reduces dominance of religious laws.
Disadvantages
Diversity of nation gets impacted.

Encroachment on religious freedom.

Interference of state in personal issues.
Extra information
The Sarla Mudgal case is considered as a landmark verdict which highlighted the need for a UCC.

Sarla Mudgal case deals with issue of bigamy, conflict between the personal laws existing on matters of marriage.