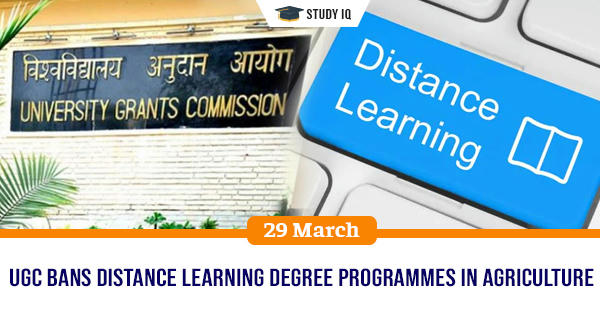 UGC bans distance learning degree programmes in agriculture
Date: 29 March 2019
Tags: Bills & Laws
University Grants Commission (UGC) has banned imparting Open and Distance Learning (ODL) degree programmes in agriculture. This decision was taken by on the ground that degree programme in agriculture is technical in nature as it requires practicals or laboratory courses.
UGC Ban
Henceforthm new enrolments will be permitted from 2019 academic session for distance agriculture degree programme. It has directed Indian Council of Agriculture Research (ICAR) for hand-holding of higher education institutions currently providing such distance courses in agriculture to protect interest of students who already have enrolled to distance agriculture degree programme.
Background
Under UGC's Open and Distance Learning Regulations, 2017, professional programmes such as engineering, architecture, medicine, nursing, dental, pharmacy and physiotherapy are not permitted to be offered in distance mode. Union Ministry of Agriculture and Farmers Welfare had requested UGC to consider prohibiting universities from offering Open and Distance Learning (ODL) degree programmes in agriculture. Annamalai University, IGNOU, Kuvempu University, Yashwant Rao Chavan Maharashtra Open University (YCMOU) and Nalanada Open University are among few institutions currently offering degree and diploma programmes in agriculture science.
University Grants Commission (UGC)
It is higher education regulator of India. It is statutory body established in accordance to UGC Act 1956. It functions under Union Ministry of Human Resource Development.

It is mandated with coordination, determination and maintenance of standards of higher education.

Its headquarters is in New Delhi and has six regional centres in Pune, Bhopal, Kolkata, Hyderabad, Guwahati and Bangalore.

Functions:

(i) provide recognition to universities in India (ii) oversee distribution of grants to universities and colleges in India, (iii) provide scholarships and fellowships to beneficiaries and (iv) monitor conformity to its regulations by universities and colleges.