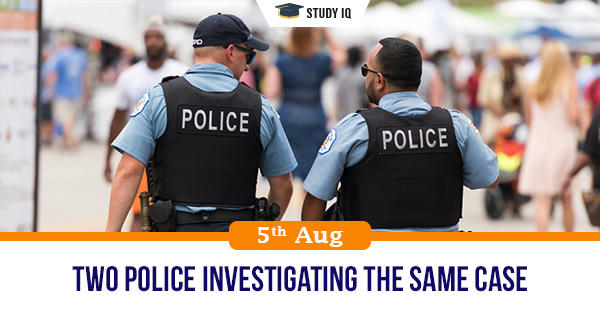 Two police investigating the same case
Date: 05 August 2020
Tags: Bills & Laws
Issue
The family of actor Sushant Singh Rajput have filed complaint in Patna, forcing Bihar Police to investigate the case. The Mumbai Police have been already onto the case.
Details
After actor Sushant Singh Rajput's body was found at his Bandra residence on June 14, the local police registered an Accidental Death Report (ADR) in the matter.

As per Section 174 of the Code of Criminal Procedure, an ADR is taken when an accidental death, suicidal death or unnatural death comes to light.

An officer then records statements of the family members and those who can shed light behind the cause of death. If no one makes any allegations, suicide note does not blame anyone and the post mortem report does not indicate murder, an ACP rank officer then ends the report at ADR stage.

Generally, the post mortem report points out if a person died of suicide or was killed based on the ligature marks around the neck, viscera report that shows if any poison was administered, injury marks on the body, time of death etc.

There have been cases where an ADR was later turned into a murder case – under Section 302 of the Indian Penal Code – after the post mortem report or forensic report indicated a person was murdered.

Apart from this, if the family members allege someone drove the person to die by suicide, or if a suicide note is found, the police can register an abetment to suicide case under Section 306 of the Indian Penal Code.

A case can be formally transferred to another agency like the CBI, but two agencies cannot probe the same FIR simultaneously.

In cases where a money laundering aspect emerges, the Enforcement Directorate registers an Enforcement Case Information Report (ECIR) and restricts its probe to the money laundering aspect of it.

As per law, an individual can go to the nearest police station and register an FIR. The police station is duty bound to register a "zero FIR" and transfer the case to the police station under whose jurisdiction the crime has taken place.

In the current case, after registering the FIR, the Bihar Police themselves came to Mumbai to investigate the case instead of transferring the case to the local police.