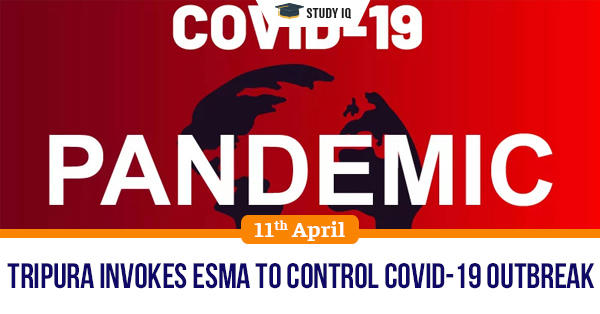 Tripura invokes ESMA to control COVID-19 outbreak
Date: 11 April 2020
Tags: Bills & Laws
Issue
Tripura has implemented the Essential Services Management Act ( ESMA) in public interest amid the coronavirus disease (Covid-19) outbreak.
Background
Services related to public conservancy, banking, communication and transport, sanitation, water supply, hospitals, or defence related are considered essential and come under the purview of the Act.
Details
ESMA empowers the state government to punish employees who refuse to serve in sectors which are considered essential to maintain normalcy.

Healthcare, sale and transport of medicines and medical equipment, electricity, food, drinking water and security are among the services considered essential.

The decision was made shortly after government announced strict action against the nurses who purportedly complained about a shortage of masks and other protective gear at the state-run Gobinda Ballabh Pant (GBP) Hospital in Agartala.
Essential Services Maintenance Act
The Essential Services Maintenance Act (ESMA) is an act of Parliament of India which was established to ensure the delivery of certain services, which if obstructed would affect the normal life of the people.

This include services like public transport (bus services), health services (doctors and hospitals). The ESMA is a law made by the Parliament of India under List No. 33 in Concurrent List of 7th Schedule of Constitution of India.

Each state has a separate state Essential Services Maintenance Act with slight variations from the central law in its provisions. Hence, in case the nature of strike disrupts only a state or states, then the states can invoke it.

The law presently in effect is the Essential Services Maintenance Act, 1968. But it has a long history of evolution through which it came into the shape it is in right now.