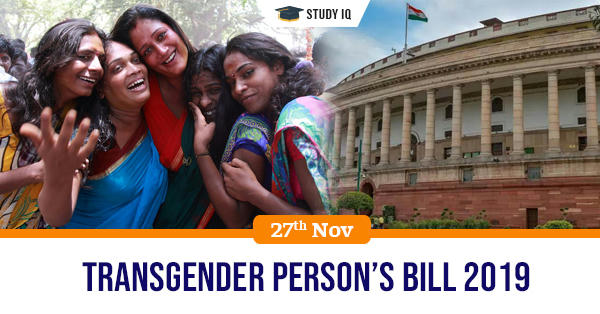 Transgender person's bill 2019
Date: 27 November 2019
Tags: Bills & Laws
Issue
The Rajya Sabha passed a bill on protection of rights of transgenders after a motion to refer it to a Select Committee of the Upper House was defeated. The Lok Sabha had passed the Bill on August 5 this year.
Details
The Transgender Persons (Protection of Rights) Bill, 2019, seeks to provide a mechanism for social, economic and educational empowerment of transgenders.
Highlights
Definition of a transgender person: The Bill defines a transgender person as one whose gender does not match the gender assigned at birth. It includes trans-men and trans-women, persons with intersex variations, gender-queers, and persons with socio-cultural identities, such as kinnar and hijra.

Prohibition against discrimination: The Bill prohibits the discrimination against a transgender person, including denial of service or unfair treatment in relation to: (i) education; (ii) employment; (iii) healthcare; (iv) access to, or enjoyment of goods, facilities, opportunities available to the public; (v) right to movement; (vi) right to reside, rent, or otherwise occupy property; (vii) opportunity to hold public or private office; and (viii) access to a government or private establishment.

Right of residence: Every transgender person shall have a right to reside and be included in his household. If the immediate family is unable to care for the transgender person, the person may be placed in a rehabilitation centre, on the orders of a competent court.

Health care: The government must take steps to provide health facilities to transgender persons including separate HIV surveillance centres, and sex reassignment surgeries.

National Council for Transgender persons (NCT): The NCT will consist of: (i) Union Minister for Social Justice (Chairperson); (ii) Minister of State for Social Justice (Vice- Chairperson); (iii) Secretary of the Ministry of Social Justice; (iv) one representative from ministries including Health, Home Affairs, and Human Resources Development.
Other members include representatives of the NITI Aayog, and the National Human Rights Commission. State governments will also be represented.
The Council will also consist of five members from the transgender community and five experts from non-governmental organisations.
Drawbacks
The biggest opposition is the requisite for a screening committee to certify a person's trans status. If they want to get a trans ID, they will have to approach a District Magistrate.

There is a Bill's punishment clause, that enforces a maximum of two years imprisonment in a case of assault or gender-based violence. Any punishment of less than three years is bailable at the police station.

The Bill criminalises begging without offering reservations for employment and education.

The enforcement of a minor's right of residence that compels any transperson below 18 to cohabit with their natal family, failing which the child will be moved to a rehabilitation home, a place to modify delinquent behaviour.