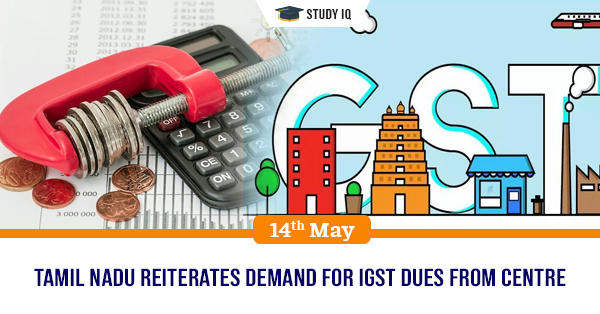 Tamil Nadu reiterates demand for IGST dues from Centre
Date: 14 May 2019
Tags: Constitution, Bills & Laws
Tamil Nadu Government has reiterated its demand to Union Finance Ministry for apportionment of its share of Integrated Goods and Services Tax (IGST) from 2017-18 fiscal. 50% of the Rs.1,76,688.44 crore received as IGST during 2017-18 is to be apportioned to SGST component, with Tamil Nadu entitled to get Rs.5,453.82 crore.
Integrated Goods and Service Tax
It is one of three categories under Goods and Service Tax (CGST, IGST and SGST) rolled out July 2017 with concept of one tax one nation. It is charged on movement of goods and services from one state to another. For example, if goods are moved from Maharashtra to Gujarat, IGST is levied on such goods. Its legal provision and statutory backing is under Integrated Goods and Service Tax (IGST) Act, 2016. The revenue collected out of IGST is shared by X central government and state government as per the rates fixed by the authorities.
Article 269A of the Constitution: It says that GST on supplies in course of interstate trade will be levied and collected by Central Government and such tax will be apportioned between Centre and States according to provisions of law on recommendations of GST Council. On basis of this constitutional provision IGST Act, 2016 was enacted.
IGST scheme for collection and devolution (As recommended by GST Council)
50% of IGST collections will go to Centre (as Central Goods and Services Tax component) and remaining 50% will be allocated to States and Union Territories (as State Goods and Services Tax component). And, 42%%of CGST component will be devolved to States/UTs.
Issue of Devolution: Thus, States/UTs are supposed to get 71% of IGST (including 50% of SGST and 21%, which is 42% of the 50% CGST). But due to wrong calculation, States received only 42% of the IGST during 2017-18.
CAG report
Comptroller and Auditor General's (CAG) report, 'Accounts of the Union Government - Financial Audit', released in February 2019 had pointed out that Centre had devolved Rs. 67,998 crore under IGST to States/UTs from States' share. Only 50% of IGST revenues are of Centre, and devolution is possible only from the Central share. Thus, the devolution, as done, is not consistent with scheme of GST/IGST. CAG has advised Centre to take into consideration needs to account for its share correctly and devolution should take place from Central share only. The remaining 50% should be apportioned to the States as per the law.