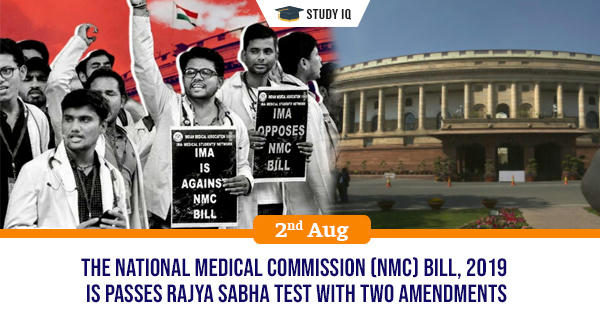 The National Medical Commission (NMC) bill, 2019 is passes Rajya Sabha test with two amendments
Date: 02 August 2019
Tags: Bills & Laws
Context: The Rajya Sabha on Thursday passed the NMC Bill 2019, proposing sweeping reforms to medical education amid a storm of protest by the medical fraternity
About the bill: The Bill seeks to repeal the Indian Medical Council Act, 1956 and provide for a medical education system which ensures:
Availability of adequate and high quality medical professionals

Adoption of the latest medical research by medical professionals

Periodic assessment of medical institutions

An effective grievance redressal mechanism
Major provisions of the bill:
Constitution of the National Medical Commission

: The Bill sets up the National Medical Commission (NMC). The NMC will consist of 25 members, appointed by the central government. Within three years of the passage of the Bill, state governments will establish State Medical Councils at the state level.
Functions of the National Medical Commission:
Framing policies for regulating medical institutions and

medical professionals

Assessing the requirements of healthcare related human resources and infrastructure

Ensuring compliance by the State Medical Councils of the regulations made under the Bill,

Framing guidelines for determination of fees for up to 50% of the seats in private medical institutions and deemed universities which are regulated under the Bill
Medical Advisory Council: The central government will constitute a Medical Advisory Council. The Council will be the primary platform through which the states/union territories can put forth their views and concerns before the NMC. Further, the Council will advise the NMC on measures to determine and maintain minimum standards of medical education.
Autonomous boards

: The Bill sets up autonomous boards under the supervision of the NMC. These boards are

The Under-Graduate Medical Education Board (UGMEB)

The Post-Graduate Medical Education Board (PGMEB)