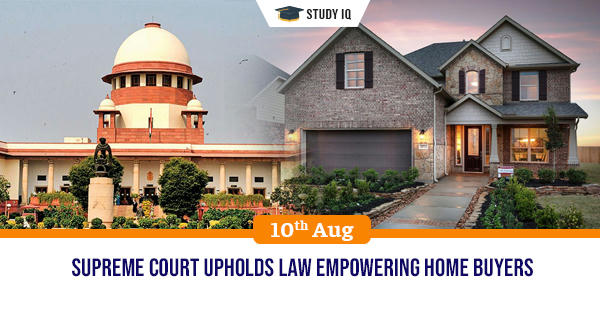 Supreme Court upholds law empowering home buyers
Date: 10 August 2019
Tags: Bills & Laws
Context: The Supreme Court on Friday (9/08/2019) upheld a central law which empowered harassed home buyers to initiate bankruptcy proceedings against errant real estate builders.
Highlights of the judgment:
A three-judge Bench led by Justice Rohinton Nariman confirmed the constitutional validity of the Insolvency and Bankruptcy Code (Second Amendment) Act of August 2018, which gave home buyers the status of "financial creditors" with power to vote in the Committee of Creditors.

On par with banks:

The Amendment Act had brought the home buyers on par with the creditor banks of the property builder
Rights of home buyers before the passage of the amendment:
Before the Amendment Act of 2018 came into existence, the assets of the bankrupt builder were divided among his employees, creditor banks and other operational creditors.

Home buyers had hardly figured

, though their hard-earned savings may have provided a major chunk of the housing project.
Changes brought by the Amendment Act, 2018:
The Amendment Act allowed home buyers, as financial creditors, to trigger bankruptcy proceedings under the Insolvency and Bankruptcy Code of 2016 and have their "rightful place" on the Committee of Creditors (CoC).
The CoC, by voting, makes important decisions on the future of the bankrupt builder. These calls include what to do with his assets and who should finish the pending housing projects.
Challenge to the Amendment Act: The builders had challenged the Amendment Act.
They said making home buyers financial creditors was like "forcibly inserting a square peg in a round hole.
The builders argued that home buyers were already armed with the Real Estate (Regulation and Development) Act (RERA), another piece of legislation which protected the interests of the individual investor in real estate projects.
Significance of the judgment:
The judgment gains significance as many real estate builders have been under fire for incomplete projects leaving homebuyers in dire straits.