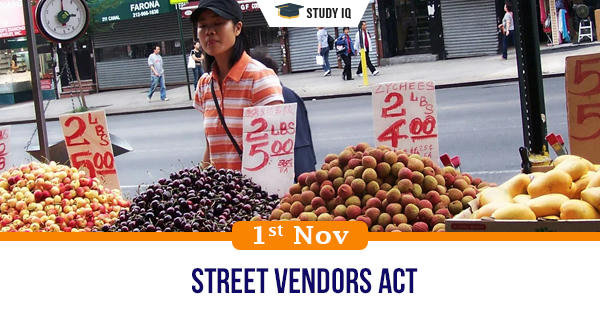 Street Vendors Act
Date: 01 November 2020
Tags: Bills & Laws
Issue
Prime Minister Narendra Modi distributed loans to nearly 300,000 street vendors under the Pradhan Mantri Street Vendors' Atmanirbhar Nidhi Yojana.
Background
The PM SVANidhi scheme, funded by the Ministry of Housing and Urban Affairs, was launched in June, with an aim to provide credit for working capital to street vendors who have been affected due to the Covid-19 crisis.
Details
PM SVANidhi ensures a working capital loan up to Rs 10,000 for vendors, and rewards digital transactions. All street vendors who have been in the business on or before March 24, 2020, are eligible to avail the benefits.

For this scheme launched in the wake of the novel coronavirus pandemic, the Centre has earmarked a stimulus package of Rs 5,000 crore for nearly 50 lakh vendors.

There are an estimated 50-60 lakh street vendors in India, with the largest concentrations in the cities of Delhi, Mumbai, Kolkata, and Ahmedabad. Most of them are migrants who typically work for 10–12 hours every day on average.

Anyone who doesn't have a permanent shop is considered a street vendor. According to government estimates, street-vending accounts for 14 percent of the total (non-agricultural) urban informal employment in the country.

Most vendors hawk their goods illegally, which makes them vulnerable to exploitation and extortion by local police and municipal authorities.

The Street Vendors (Protection of Livelihood and Regulation of Street Vending) Act, 2014 was enacted to regulate street vendors in public areas and protect their rights.

The Act envisages the formation of Town Vending Committees in various districts to ensure that all street vendors identified by the government are accommodated in the vending zones subject to norms.