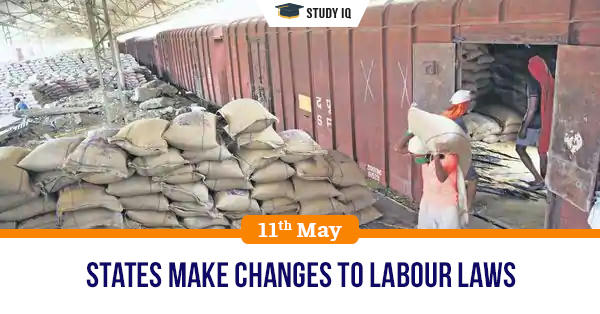 States make changes to labour laws
Date: 11 May 2020
Tags: Bills & Laws
Issue
As the economy struggles with the lockdown and thousands of firms and workers stare at an uncertain future, some state governments last week decided to make significant changes in the application of labour laws.
Background
These changes are being brought about to incentivise economic activity in the respective states. Labour falls in the Concurrent List and there are many laws enacted by the Centre that a state cannot just brush aside.
Details
Estimates vary but there are over 200 state laws and close to 50 central laws. And yet there is no set definition of "labour laws" in the country. Broadly speaking, they can be divided into four categories.

The main objectives of the Factories Act, for instance, are to ensure safety measures on factory premises, and promote health and welfare of workers. The Shops and Commercial Establishments Act, on the other hand, aims to regulate hours of work, payment, overtime, weekly day off with pay, other holidays with pay, annual leave, employment of children and young persons, and employment of women.

The Minimum Wages Act covers more workers than any other labour legislation. The most contentious labour law, however, is the Industrial Disputes Act, 1947 as it relates to terms of service such as layoff, retrenchment, and closure of industrial enterprises and strikes and lockouts.

Indian labour laws are often characterised as "inflexible". Many have also pointed out that there are too many laws, often unnecessarily complicated, and not effectively implemented. This has laid the foundation for corruption and rent-seeking.

Essentially, if India had fewer and easier-to-follow labour laws, firms would be able to expand and contract depending on the market conditions, and the resulting formalisation would help workers as they would get better salaries and social security benefits.

The removal of all labour laws will not only strip the labour of its basic rights but also drive down wages. The government has completely turned its stand from asking firms not to fire workers and pay full salaries at the start of the lockdown, to stripping workers of their bargaining power now.

If all labour laws are removed, most employment will effectively turn informal and bring down the wage rate sharply. And there is no way for any worker to even seek grievance redressal.

The government should have partnered with the industry and allocated 3% or 5% of the GDP towards sharing the wage burden and ensuring the health of the labourers.

Beyond labour regulations, firms faces a lot of other hurdles like the shortage of skilled labour and the weak enforcement of contracts etc.