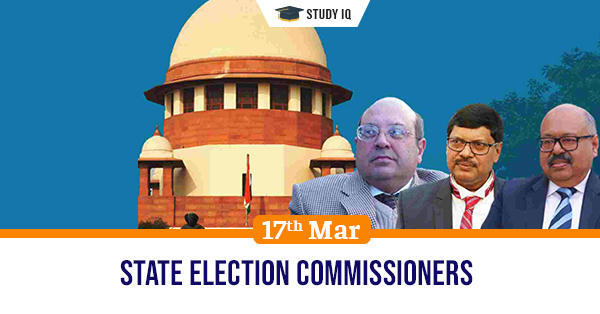 State Election Commissioners
Date: 17 March 2021
Tags: Bills & Laws
Issue
The Supreme Court has given verdict that State Election Commissioners should be independent and should not be individuals holding government office.
Background
The decision came in light of Government of Goa appointing a temporary official as State Election Commissioner to conduct local elections.
Details
The Goa government had moved Supreme Court against a ruling of the High Court of Bombay which had nullified an order of the government determining the reservation of seats in certain Municipal councils.

Candidates contesting the elections had filed petitions accusing that wards were arbitrarily reserved and provisions mandating 33% seats for women and rotation of seats reserved for SC/ST candidates were not followed.

The High Court directed the Director of Municipal Administration to carry out the reservation of the wards afresh by rectifying mistakes.

The court also ordered the state government to carry out the process of reservation of wards afresh and issue a fresh election schedule.

The state government had argued that the courts cannot interfere in the election schedule since they were set to happen.
Order on State Election Commissioner
The court observed that the SEC was the Law secretary and instructed the government to appoint an independent person to the post.

Once delimitation and ward reservation for the five councils is done afresh, the new election dates will have to be announced.