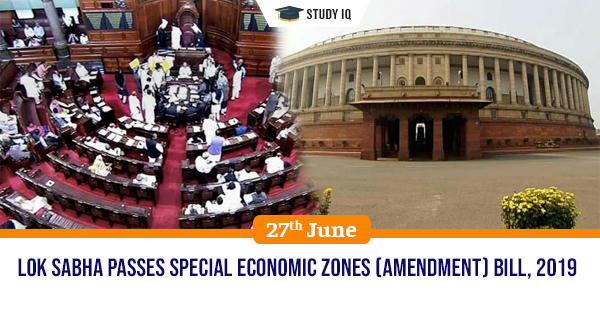 Lok Sabha passes Special Economic Zones (Amendment) Bill, 2019
Date: 27 June 2019
Tags: Bills & Laws
Lok Sabha has passed Special Economic Zones (Amendment) Bill, 2019 through voice vote. It is first legislation to be passed by the 17th Lok Sabha. The bill replaces Special Economic Zones (Amendment) Ordinance, 2019, which was promulgated in March 2019 to amend Special Economic Zones (SEZ) Act, 2005.
Key Provisions of Bill
It amends sub-section (v) of Section 2 of the SEZ Act, 2005 to add two more categories in the definition of person by including a trust, or any other entity which may be notified by the Central Government for consideration of grant of permission to set up a unit in SEZs,
SEZ Act, 2005
It provides for the establishment, development and management of Special Economic Zones for the promotion of exports. Earlier, under sub-section (v) of Section 2 of this Act, the definition of a person included individual, a Hindu undivided family, a co-operative society, a company, a firm or an association of persons. It did not permit 'trusts' to set up units in SEZs, thus undermining investments from trusts in these zones.