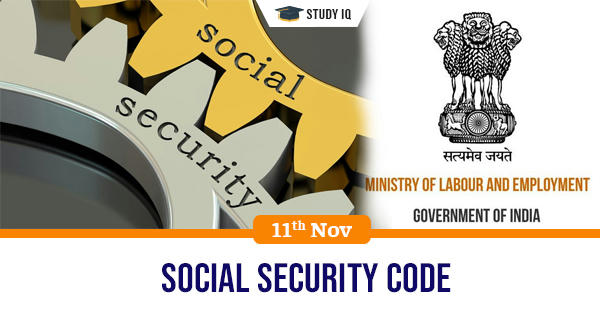 Social security code
Date: 11 November 2019
Tags: Bills & Laws
Issue
The Ministry of Labour and Employment is planning to draft a Social Security Code which subsumes eight existing laws covering provident fund, maternity benefits and pension.
Background
A draft of the social security code is one of the four codes that are part of the Centre's labour reforms agenda, was published on September 17 for public comments and suggestions.
Details
Trade unions are against the proposal for provident fund, pension and insurance funds to be administered by a central board, and a national pension scheme that employees can opt for.

The opposing parties say that the first draft had provisions for the right to social security for all and establishment of a central apex council, headed by the Prime Minister, but these were missing from the latest draft.
Social security
Social security is any government system that provides monetary assistance to people with an inadequate or no income.
Need for social security
Social Security protects people against a variety of risks to ensure them a basic ?oor of income in old age and to enable many people who have struggled all their lives to look forward to a decent standard of comfort and dignity when they retire.

Social Security is a particularly important source of income for groups with low earnings and less opportunity to save and earn pensions.

Social Security is not just a retirement program, it is a family insurance program. Social Security provides disability and life insurance benefits to workers and their families.