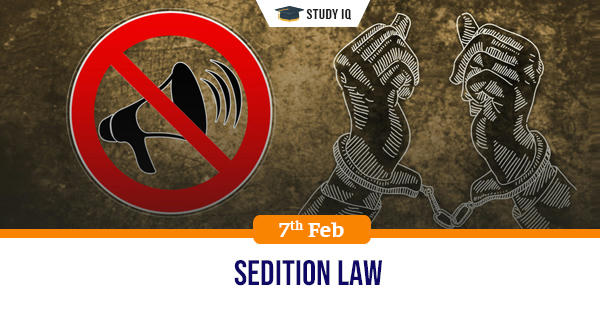 Sedition law
Date: 07 February 2020
Tags: Bills & Laws
Issue
A sessions court in Mumbai rejected the anticipatory bail application of a 22-year-old student booked under Section 124A (sedition) of the Indian Penal Code (IPC).
Background
The sedition charge was filed on the basis of slogans that the student had raised in favour of another student who has already been booked for sedition.
Details
Section 124A has been challenged in various courts in specific cases. The validity of the provision itself was upheld by a Constitution Bench in 1962, in Kedarnath Singh vs State of Bihar.

The Supreme Court laid down that every citizen has a right to say or write about the government, by way of criticism or comment, as long as it does not "incite people to violence" against the government established by law or with the intention of creating public disorder.

The High Court referred to five other judgments, including a Supreme Court judgment (Balwant Singh vs State of Punjab) regarding raising of slogans by three men after former Prime Minister Indira Gandhi was assassinated.
Sedition charges
Section 124A of the Indian Penal Code lays down the punishment for sedition. The Indian Penal Code was enacted in 1860, under the British Raj. Section 124A forms part of Chapter VI of the Code which deals with offences against the state.

Whoever, by words, either spoken or written, or by signs, or by visible representation, or otherwise, brings or attempts to bring into hatred or contempt, or excites or attempts to excite disaffection towards, the Government established by law in India, shall be punished with imprisonment for life, to which fine may be added, or with imprisonment which may extend to three years, to which fine may be added, or with fine.
Explanation 1.—The expression "disaffection" includes disloyalty and all feelings of enmity.

Explanation 2.—Comments expressing disapprobation of the measures of the Government with a view to obtain their alteration by lawful means, without exciting or attempting to excite hatred, contempt or disaffection, do not constitute an offence under this section.

Explanation 3.—Comments expressing disapprobation of the administrative or other action of the Government without exciting or attempting to excite hatred, contempt or disaffection, do not constitute an offence under this section