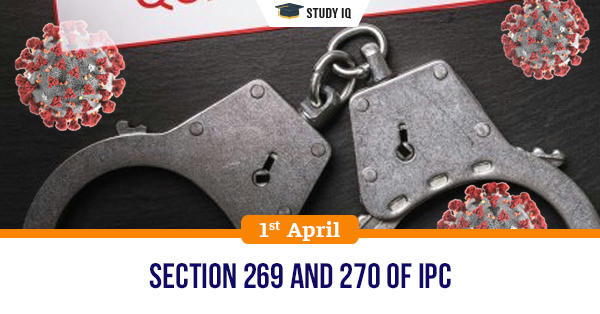 Section 269 and 270 of IPC
Date: 01 April 2020
Tags: Bills & Laws
Issue
Earlier an individual, who failed to disclose travel history following return from Dubai, and who later tested positive for COVID-19, was booked under Section 270 of the Indian Penal Code (IPC).
Background
UP police had booked Bollywood singer Kanika Kapoor under the same Section, as well as Sections 269 and 188 IPC, after she attended at least three gatherings in Lucknow, including a party where political leaders were present, and tested positive for the new coronavirus.
Details
There have been other instances across the country where Sections 269 and 270 have been used to book persons defying quarantine orders for containing the spread of the pandemic.

Sections 269 (negligent act likely to spread infection of disease dangerous to life) and 270 (malignant act likely to spread infection of disease dangerous to life) come under Chapter XIV of the Indian Penal Code– 'Of Offences Affecting The Public Health, Safety, Convenience, Decency and Morals'.

While Section 269 provides for a jail term of six months and/or fine, Section 270 provides for a jail term of two years and/or fine. In Section 270, the word 'malignantly' indicates indicates a deliberate intention on the part of the accused.

During the coronavirus outbreak, penal provisions, such as Sections 188, 269 and 270 of the IPC, are being invoked to enforce the lockdown orders in various states.

Both Sections have been used for over a century to punish those disobeying orders issued for containing epidemics. The Sections were similarly enforced by colonial authorities during outbreaks of diseases such as smallpox and bubonic plague.

Recent instances of invocation include one on March 2018, when the Health Ministry said that failure by clinical establishments to notify a tuberculosis patient to the nodal officer and local public health staff can be punished under Section 269 and 270.