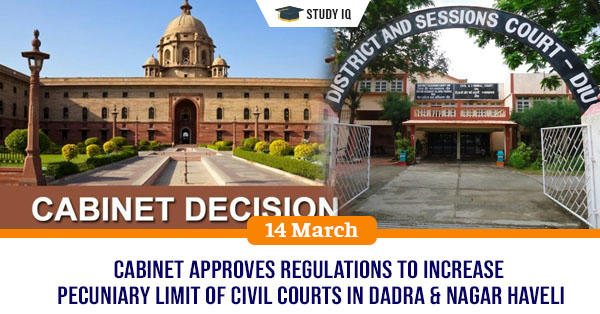 Cabinet approves regulations to increase pecuniary limit of civil courts in Dadra & Nagar Haveli
Date: 14 March 2019
Tags: Bills & Laws
Union Cabinet under Article 240 of the Constitution has approved promulgation The Daman and Diu Civil Courts (Amendment) Regulation, 2019 and The Dadra and Nagar Haveli (Civil Courts and Miscellaneous Provisions) Amendment Regulation, 2019.
The new regulations will increase pecuniary limit of civil courts in Dadra and Nagar Haveli so that people of Union territory do not have to approach Bombay High Court to challenge the decisions taken by local courts.
Benefits:
It will be helpful in bringing uniformity in Judicial Service of this UT.

It will also help overcome difficulties being faced by litigants in travelling to Mumbai for filing appeals due to existing limited pecuniary jurisdiction. (Bombay High Court has jurisdiction over Maharashtra, Goa and UTs of Daman and Diu and Dadra and Nagar Haveli)

It will enhance pecuniary jurisdiction will accelerate justice delivery to citizens.
Article 240 of Constitution: Power of President to make regulations for certain UTs
It empowers President to make regulations for peace, progress and good government of UTs of Andaman and Nicobar Islands, Lakshadweep, Dadra and Nagar Haveli, Daman and Diu and Pondicherry.

The regulations made by President have same force and effect as Act of Parliament which applies to that territory.

Exceptions of Puducherry:

President has powers to make regulations for peace, progress and good government for UT of Pondicherry only when its legislature is dissolved or its functioning is suspended.

Note:

Puducherry has its separate legislature as per Article 239A of Constitution