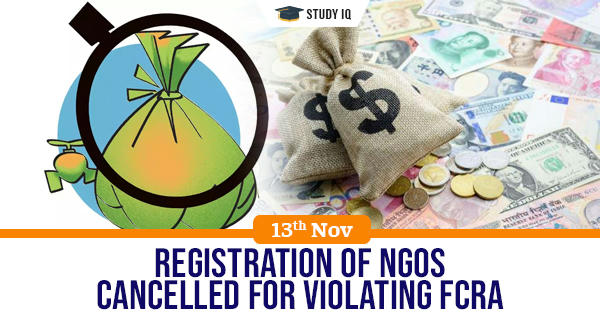 Registration of NGOs cancelled for violating FCRA
Date: 13 November 2019
Tags: Bills & Laws
Issue
Over 1,800 NGOs and academic institutes found to be violating laws by receiving foreigh funds have been banned by the government.
Background
As per FCRA guidelines, registered associations are required to submit electronically an online annual report with scanned copies of income and expenditure statement, receipts and payment account, balance sheet, etc., for every financial year within nine months of the closure of the financial year.
Details
Among those whose registration under the Foreign Contribution (Regulation) Act has been banned include University of Rajasthan, Allahabad Agricultural Institute, Young Mens Christian Association, Gujarat and Swami Vivekananda Educational Society, Karnataka.

The FCRA registration of these organisations were cancelled mostly due to their failure to submit annual income and expenditure statement on foreign funding for up to six years despite repeated reminders.
Foreign Contribution Regulation Act, 2010 (FCRA)
The Foreign Contribution (regulation) Act, 2010 is an act of the Parliament of India, by the 42nd Act of 2010.

It is a consolidating act whose scope is to regulate the acceptance and utilisation of foreign contribution or foreign hospitality by certain individuals or associations or companies and to prohibit acceptance and utilisation of foreign contribution or foreign hospitality for any activities detrimental to the national interest and for matters connected to it.
Key features
Every member of an NGO must also now, under oath, through an affidavit, certify that they have never been involved in "diverting" foreign funds or propagating "sedition" or "advocating violent means".
Earlier, the applicant or director-level person was to given this declaration but now all members of the NGO need to be given this declaration.

Earlier, as per the market value of the gift item in India was Rs. 25,000, now it has been raised to Rs. one lakh.

If any individual, from NGO, hospitalized during a foreign visit, he/she has to be intimated the government within one month.
FCRA 2010 will not apply to FC accepted
from a relative (under FCRA 1976 prior approval of CG is required for receipt of FC in excess of ` 8000 p.a.)

by way of any scholarship, stipend or any payment of like nature