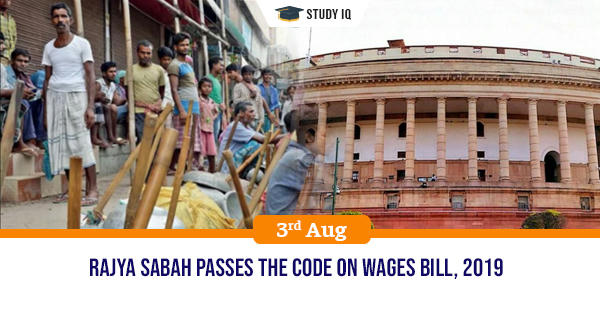 Rajya Sabah passes the Code on Wages Bill, 2019
Date: 03 August 2019
Tags: Bills & Laws
Context: The bill seeks to amend and consolidate the laws relating to wages, bonus and matters connected therewith.
Code on wage: The Code on Wages is one of the four codes that would subsume 44 labour laws with certain amendments to improve the ease of doing business and attract investment for spurring growth. The four codes will deal with wages, social security, industrial safety and welfare, and industrial relations.
Major provisions:
The Code on Wages will replace the Payment of Wages Act, 1936, Minimum Wages Act, 1948, Payment of Bonus Act, 1965, and the Equal Remuneration Act, 1976.
The bill provides that the Central Government will fix minimum wages for certain sectors, including railways and mines, while the states would be free to set minimum wages for other category of employments.
The code also provides for setting up of a national minimum wage.
The Central Government can set a separate minimum wage for different regions or states. The draft law also says that the minimum wage would be revised every five years.