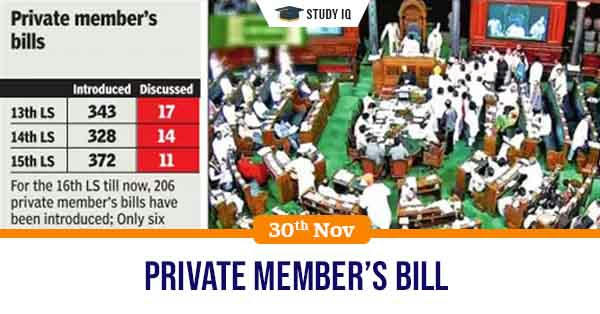 Private Member's Bill
Date: 30 November 2019
Tags: Bills & Laws
Issue
Several members in the Lok Sabha have requested that private members' Bills should be taken up on Wednesdays instead of Fridays and added that time allotted for this should not be cut short.
Background
Private members' bills are brought in by members of Parliament who are not ministers. These bills are taken up only on Fridays.
Private Member's Bill (PMB)
A Member of Parliament (MP) who is not a Minister in the Union Cabinet is called a Private Member. Bills introduced by such members are called Private Member's Bills.

A PMB can be introduced in either the Lok Sabha or Rajya Sabha. Bills introduced by ministers are called Government Bills.

Generally, the 2.00 pm to 6.00 pm slot on alternate Fridays during sessions are reserved for discussion on PMBs.

There are no restrictions as to what a PMB should be about. The scope of a PMB is same as that of a Government Bill. These bills can deal with any issue and can also be a Constitutional Amendment Bill.

Unlike a Government Bill, a PMB is not discussed by the Council of Ministers internally.
Procedure
PMBs are drafted by MPs themselves or by their staff. These bills are, however, scrutinised and checked by the Parliament Secretariat for technicalities and legal consistency.

The member has to provide a one-month notice along with a copy of the 'Statement of Object and Reasons'. Through the statement, the member is required to elaborate on the bill.

In case there are multiple PMBs being proposed at the same time, a ballot system is used to determine the sequence of bills for introduction.

There is also a Parliamentary Committee on Private Member's Bills and Resolutions that goes through all PMBs. The committee classifies these Bills based on their urgency and importance, which in turn, determines which would be discussed first.
Why PMBs fail to pass?
A successful passing of PMB is perceived by many as incompetence on part of the government and intrusion into the respective ministry's domain.

Governments in the past have also at times cut short the path of PMBs. If such a bill is seen getting support in Parliament, the government requests the MP to withdraw it and promises to introduce it as a Government Bill instead.

Without support from the ruling party of the alliance, that command majority, it becomes impossible to pass the bill especially in the Lok Sabha.