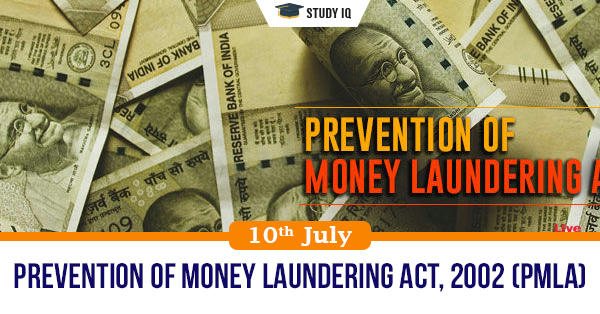 Prevention of Money Laundering Act, 2002 (PMLA)
Date: 10 July 2020
Tags: Bills & Laws
Issue
The central government is investigating the finances of NGOs linked to the Congress party for violating PMLA.
Background
Prevention of Money Laundering Act, 2002 is an Act of the Parliament of India to prevent money-laundering and to provide for confiscation of property derived from money-laundering.
Details
Objectives
To prevent and control money laundering

To confiscate and seize the property obtained from the laundered money; and

To deal with any other issue connected with money laundering in India.
Features
The Act prescribes that any person found guilty of money-laundering shall be punishable with rigorous imprisonment from three years to seven years.

Appropriate authorities, appointed by the Govt of India, can provisionally attach property believed to be "proceeds of crime" for 180 days. Such an order is required to be confirmed by an independent Adjudicating Authority.

A person, who is accused of having committed the offence of money laundering, has to prove that alleged proceeds of crime are in fact lawful property.

An Appellate Tribunal is the body appointed by Govt of India. It is given the power to hear appeals against the orders of the Adjudicating Authority and any other authority under the Act. Orders of the tribunal can be appealed inappropriate High Court (for that jurisdiction) and finally to the Supreme Court.

Financial Intelligence Unit – India (FIU-IND) was set by the Government of India on 18 November 2004 as the central national agency responsible for receiving, processing, analyzing and disseminating information relating to suspect financial transactions.
PMLA, 2019 (Amendment)
The Government, through these amendments, has made the anti-money laundering laws stricter by expanding the ambit of the "proceeds of crime". The scope now includes properties and assets created, derived, or obtained through any criminal activity related to the scheduled offence, even if it is not under the PMLA.

A key proposed change in the definition of "proceeds of crime" would allow the ED to proceed against assets of equivalent value located even outside the country.

A new provision to Section 44 (1) has been inserted, which provides for closure of investigation in cases where no offence of money-laundering is made out.

The Government has also brought changes to exclude the period of stay granted by a Court from the 180-day limit for the validity of provisional attachment orders and also to provide a further period of not more than 30 days to take care of delays in communication of judicial orders.