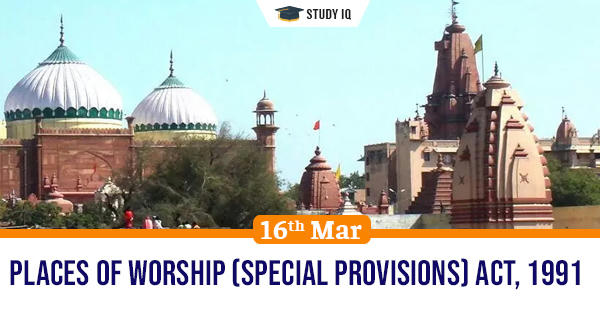 Places of Worship (Special Provisions) Act, 1991
Date: 16 March 2021
Tags: Bills & Laws
Issue
The Supreme Court of India has asked the Centre to address a plea challenging the Places of Worship (Special Provisions) Act, 1991.
Background
The issue is quite sensitive as the direction is expected to open litigation for various other disputed places of worship including Mathura and Varanasi.
Details
The law was passed in 1991 by the government led by P.V. Narasimha Rao in order to tackle the various disputes regarding place of worship in the country.

It aims to maintain the "religious character" of places of worship as it was in 1947. This means that the place will follow the status quo as it was during Independence Day.

However, the law has an exception. It exempts Ram Janmabhoomi-Babri Masjid dispute from the purview of the law.

The government had said that the law was brought to curb the communal tensions that were taking place due to dispute between religious groups.
Provisions
To prevent conversion of any place of worship and to provide for maintaining of the religious nature of any place of worship as it existed on the 15th day of August, 1947.

No person shall change any place of worship of any religious groups into one of a different denomination or section.

All suits, appeals or other proceedings regarding converting the character of a place of worship, pending on August 15, 1947, will be cancelled when the Act comes into action and no fresh proceedings can be filed.

Legal actions can be started regarding conversion of the religious character of any place of worship after the Act has come into action if the change of status took place after the cut-off date of August 15, 1947.
Exemptions
Nothing in the act shall apply to the place or place of worship known as Ram Janma Bhumi-Babri Masjid situated in Ayodhya.

Any place of worship which is ancient and historical or an archaeological site or is covered by the Ancient Monuments and Archaeological Sites and Remains Act, 1958.

Any dispute that has been settled by the parties of the place that took place by mutual understanding before the Act came into being.
Criticism
The cut-off is given as the date of Independence, which indicates that status quo determined by a colonial power is considered final.

The opposition had challenged it saying that union government has no power to legislate on "pilgrimages" or "burial grounds" which is under the state list.