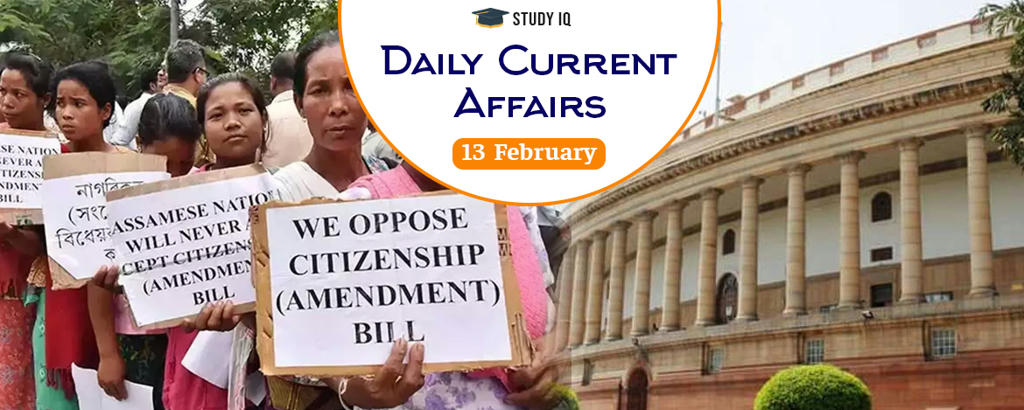 Parliament passes Personal Laws (Amendment) Bill, 2019
Date: 13 February 2019
Tags: Bills & Laws
Parliament has passed Personal Laws (Amendment Bill), 2018 to omit leprosy as ground for divorce from various existing laws governing marriages in India. This will go long way in detaching social stigma associated with leprosy.
Key Facts
The bill amends five personal laws related to divorce viz. Divorce Act, 1869, Dissolution of Muslim Marriage Act, 1939, Special Marriage Act, 1954, Hindu Marriage Act, 1955 and Hindu Adoptions and Maintenance Act, 1956. Each of these Acts prescribe leprosy as ground for seeking divorce or separation from the spouse.

The Bill by amending these Acts removes this as ground for divorce or separation from the spouse. The bill states that owing to advancements in medical science, the disease of leprosy is no longer incurable. Thus, it will end discrimination against people suffering from leprosy.
Reasons for removal
The leprosy is being removed as ground for divorce as it is now completely curable and can be treated with multidrug therapy as against the earlier notion of it being incurable.

The bill states that this provision was discriminatory provision and were made prior to medical advancements rendering leprosy curable disease.

It also acknowledges judgment rendered by Supreme Court in September 2018, issuing slew of directions for treatment and rehabilitation of those affected by leprosy, while also ensuring that discrimination against them and their family members is eliminated.

Law Commission of India in its 256th Report also had recommended elimination of discrimination against people affected by the disease.
Leprosy
Leprosy (also known as Hansen's disease) is one of the oldest diseases known to humankind.

It is caused by slow-growing type of bacteria called Mycobacterium leprae (M. leprae), which multiplies very slowly in human body.

The M. leprae bacterium has long incubation period (on average 5 years or longer).

It affects nerve endings and destroys body's ability to feel pain and injury.

It is chronic granulomatous disease that mainly affects skin and peripheral nervous system.

It can also affect the eyes and respiratory system.

It is curable with multidrug therapy (MDT). Treatment provided in the early stages averts disability.
India and Leprosy
As per WHO, leprosy has been eliminated globally as public health problem in 2000, but it still continues affects individuals.

India was declared Leprosy free country in 2005 because of less than one case per 10,000 population.

However, India still accounts for 60% of global leprosy burden with Annual New Case Detection Rate(ANCDR) of 9.71 per 1,00,000 population.

National Institute of Immunology has indigenously developed world's first leprosy vaccine named Mycobacterium Indicus Pranii (MIP).